Yardwork makes you feel productive but often leaves your yard looking like a mess. A yard full of cut weeds, leaves, shrubs, and grass can be overwhelming as you wonder what to do with yard waste. Whether you want to try to do it yourself or bring in the professionals, we've got a few ways you can dispose of your yard waste without having to dump it all in your garbage bin.
Do It Yourself
Mow Over Your Leaves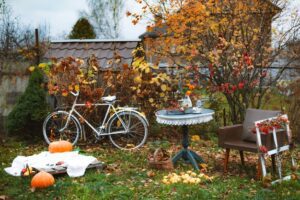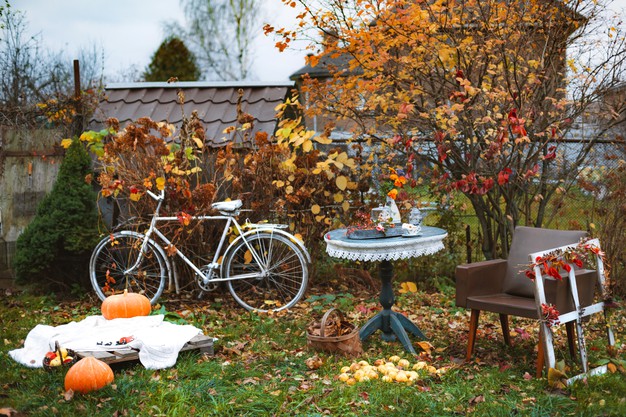 One of the easiest ways to get rid of a leaf pile without raking it into a million different bags is to mow over the leaves. You can quickly do this with your lawnmower using the "mulch" setting. This creates mixtures rich in nutrients for your lawn. You can also add your leaves to your compost pile. This is all an easy way to recycle your leaves back into your yard. You don't have to break your back raking all day, and you make "food" for your lawn. It's a win-win.
Haul It Away
Most areas have a yard waste collection site or a compost center. These places take in organic materials. The only drawback to these options is if you don't have a way to haul all of the debris. Check out your local city website to find out any restrictions, instructions, and pricing. Some centers ask that you sort the leaves and grass separate from the shrubs and trees. Some collection sites offer the service free to residents.
Illegal Waste Dumping
Sometimes options for yard waste dumping are illegal. There are different local and state laws, but many times you can only dump yard waste in designated areas like your landfill. If you dump yard waste on a public or private property that does not have a license or is not permitted for waste dumping, you could be breaking the law. There are also many federal government laws about protecting the environment. These laws usually apply to large amounts of hazardous waste.
Issues With Landfill Dumping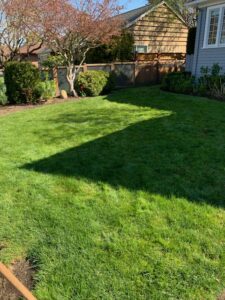 The problem with hauling things away to dump them in a landfill is that it can be hazardous to the environment and our health. Regulations haven't always been in effect for landfills. Anything and everything might be buried in landfills all over the globe. This means toxic chemicals and other hazardous materials seep into the Earth polluting its surroundings. As these things decompose, they sometimes release toxic gases like methane. These are the things that contribute to global warming. This is why many times it's best left to the professionals to haul away your waste, so you know it's done in an ethical way.
Reduce The Size Of Your Grass Lawn
Yard waste is one of the largest components that make up municipal waste in many states. Lawn trimmings alone make up about half of the total yard debris produced annually. Reduce overall waste by keeping your lawn as healthy as possible. Keep it fertilized and irrigated. You can go a step further by removing your lawn if possible. You can add a xeriscape, artificial turf, patios, decks, paving stone walkways, and/or plant beds.
Rent a Dumpster
If you have a huge amount of yard waste, renting a dumpster is helpful. A rental dumpster is one of the best solutions when you are doing a yard renovation or if you have debris left over from a big storm. This will help you easily dispose of your yard waste so the piles of debris don't take over your yard. You can fill the bin as you clean. When the container is filled, you can have it removed.
Rent A Wood Chipper
You can rent a wood chipper to turn the debris in your yard into useful mulch. The best thing to remember is to cut any large pieces into wood into smaller ones. Also, remove the rocks before you put wood in the chipper.
Use Logs And Branches As Firewood
If you don't want to rent a wood chipper or get rid of valuable wood, you can save it for fires. Whether you enjoy a blazing fire in the firepit outside or in your own fireplace, logs and branches provide free fuel. It's important that you give them time to dry out and store them properly. YOu should chop the wood to get ready for storage. it is best to chop them down to about eight inches in diameter and 18 inches long. Make sure when you stack them to store, there is an adequate amount of air flow.
Burn Your Yard Waste
One of the most popular ways to rid of yard waste is to burn it. Remember, many areas are under a burn ban or deemed it illegal to burn in the city limits. There is also a risk of wildfire and it may increase pollution. If you choose to burn your waste, make sure you don't burn the garbage with any combustible items. Keep the fire enclosed. Check your local burning laws before choosing this option. Many local laws state specific spacing instructions. Most of these state a fire should be more than 50 feet away from any structures and more than 150 feet away from a neighbor's property. As long as you control the fire and follow any local laws, burning your waste should not be a problem.
Make A Compost Pile
Composing is one of the most popular ways to make waste useful. The best and easiest way to compost your yard waste is to start it small. Build the pile with a mixture of brown and green materials. Shred or chop up larger tree limbs or shrubbery. The pile will be okay to get a little moisture, but put a tarp over it if you are to get a lot of rain. This waste will eventually break down into a nutrient-rich substance that feeds your garden.
Recycle and Reuse Yard Debris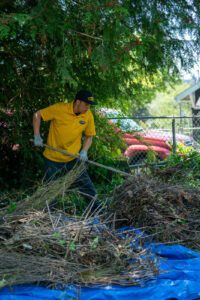 It's important to recycle yard waste if possible. Each year millions of leaves, lawn clippings, branches, and other debris end up in landfills. If you're able to recycle your yard waste, the landfill will not fill as quickly. You can avoid a lot of extra hard work if you reuse your yard waste. This means doing things like leaving leaves on your lawn so they decompose. They will turn into nutrients that eventually go back into your soil. You can also use dried leaves or shredded wood waste to make mulch. Then you spread it around the base of your plants to prevent weed growth. You can do the same thing with your leftover grass clippings.
Make Leaf Mold
Leaf mold is great for your plants and is easily made from yard waste. This type of mold is made from decomposed leaves. This dark brown mold has a pleasant aroma with a crumbling texture. Unlike a compost pile, you don't need to add anything else to your pile of leaves. It's a simple, free soil amendment. You can also dig or till it in the garden beds.
Get A Little Help
Hire A Junk Removal Service
You can save yourself time, energy, and stress by hiring a junk removal service. They'll bring out a team to do all of the tough stuff. They'll lift all of the debris into bins then haul it all away. The price will vary depending on the size and weight of the yard waste. This is a great option if the piles of debris are overwhelming, you don't have the time to gather and haul it away, and/or you simply want the help of a professional.
Subscribe To A Pickup Service
A regularly scheduled pickup service is great if you do a lot of yard work or landscaping. A pickup service will set you up on a regular basis to collect your yard waste. This is also a great solution if you want to regularly recycle your yard waste. You can place separate trash bins outside designing one for organic waste.
Schedule a Pick-Up
If you don't need weekly or monthly service, you can also hire a one-time pickup service. A scheduled pick-up is perfect for times when you're doing a big landscaping project or need help cleaning up from a storm. Some cities have a curbside clean-up day that takes place once a year. You can also contact a waste management service to come to pick up your yard debris. This service is used by many people to dispose of Christmas trees.
trees
Local Trash Collection Service Pickup
Many places have a weekly trash service that will come to your home. Sometimes they collect it in small amounts on the curb. You have to do the work of taking the waste out to the curb. Some ask that you bundle it, while others will bundle it for you. Many times they ask you to put your leaves in yard waste bags. You can check your local city website to know their rules and regulations.
Waste Pickup – Normal Items
Many times there is more to yard waste than piles of leaves or branches. If you're unsure if a waste pickup service will take the additional items, contact them for more information. Many times companies will also pick up stumps, soil, sod, fending, firewood, shingles, and/or window frames.
What Does Not Belong?
Yard waste isn't a place for non-biodegradable materials. You should not put any metal or plastic in the pile. Some people also mix in animal waste, rubber hoses, plastic bags, and/or garden tool handles. It's important to check your yard regularly for litter and debris that might make its way into your yard waste.
Hazardous Waste and Yard Waste
Sometimes yard waste includes debris that is hazardous. Things like paints, batteries, electronics, and pharmaceuticals should never be mixed in with your yard debris. These are considered hazardous materials. Sometimes things you think are safe like debris from an old barn demolition can actually include hazardous materials. These should be disposed of in a legal way. Many times professional junk haulers cannot even take these away. Always make sure any hazardous materials are disposed of legally. These also include treated wood, glues, and solvents.
If you're worried about what to do with yard waste, try any of these options to safely rid of it. Keeping up your yard is fulfilling, but tough. Sometimes storms blow in creating a mess in your yard as well. There's no need to mess with the mess when you have so many options to get rid of this yard waste.