If you're a homeowner with a yard, you've likely faced the dilemma of what to do with your yard waste. The leaves, grass clippings, and small branches that accumulate over time need to go somewhere. But where? The two primary options are composting and sending the waste to a landfill. In this blog post, we'll explore the pros and cons of each method to help you make an informed decision.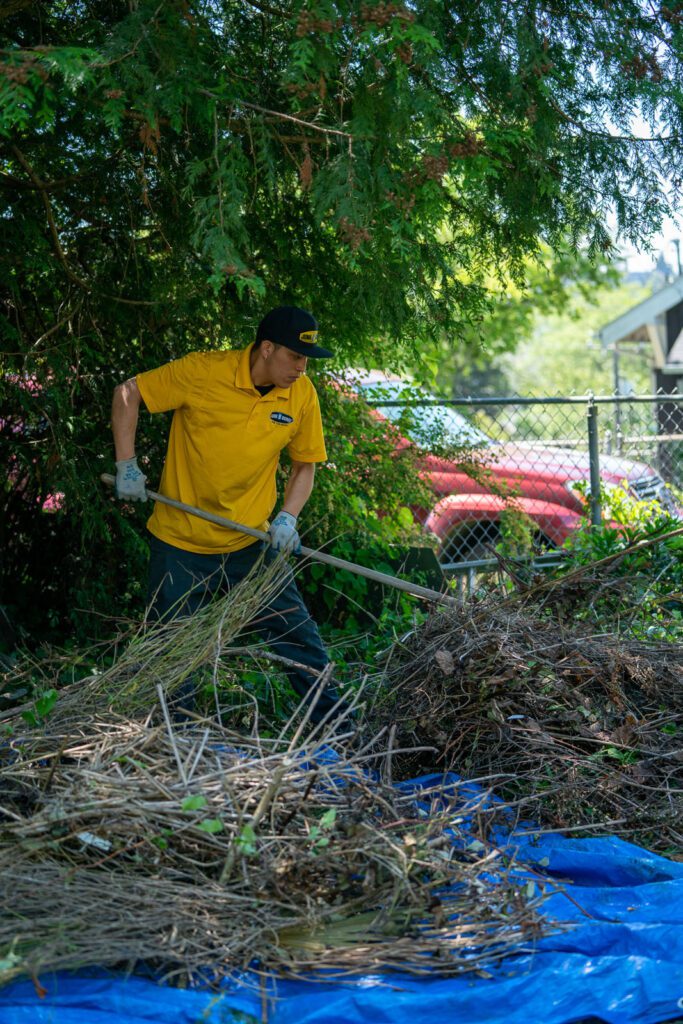 Environmental Considerations: Composting vs. Landfill
The Environmental Benefits of Composting
Composting is an eco-friendly method of waste disposal. It reduces the amount of waste that ends up in landfills and helps to cut down on greenhouse gas emissions. Composting also enriches the soil, making it a win-win for both you and the environment.
For more details on the environmental benefits of composting, check out the EPA's guide on composting.
The Environmental Downsides of Using Landfills
Sending yard waste to a landfill may seem convenient, but it comes with environmental costs. Landfills produce methane, a potent greenhouse gas, and can lead to soil and water pollution.
Practical Aspects: What's Easier, Composting or Landfill?
The Practicality of Home Composting
Composting at home requires some space and a commitment to maintaining your compost pile. The end result is nutrient-rich soil that you can use in your garden.
Convenience vs. Cost: The Landfill Option
While sending yard waste to a landfill is convenient, it may come with financial costs, including disposal fees. Additionally, you miss out on the opportunity to enrich your soil through composting.
Understanding Local Regulations and Guidelines
Before you decide on a disposal method, it's crucial to check your local regulations. In Seattle, for example, there are specific yard waste disposal guidelines that residents must follow.
Real-Life Examples: Case Studies on Composting and Landfill Use
Several communities and individuals have successfully implemented composting programs, reducing their environmental footprint. On the other hand, excessive use of landfills has led to negative community impacts, including increased pollution and waste management costs.
Weighing the Pros and Cons for a Sustainable Choice
When it comes to yard waste disposal, both composting and using a landfill have their merits and drawbacks. Your choice will likely depend on a combination of factors, including environmental concerns, practicality, and local regulations.
Composting
Eco-Friendly: One of the most significant advantages of composting is its positive impact on the environment. By composting, you're reducing landfill waste and lowering greenhouse gas emissions.
Soil Enrichment: Composting produces nutrient-rich soil that can benefit your garden, making it a doubly rewarding process.
Space and Maintenance: The downside is that composting requires space and ongoing maintenance. You'll need to regularly turn your compost pile and ensure it has the right balance of 'greens' and 'browns.'
Landfill
Convenience: Sending your yard waste to a landfill is undoubtedly convenient. It's a quick way to get rid of waste without the need for sorting or ongoing maintenance.
Costs: However, this convenience may come at a financial cost, including potential disposal fees.
Environmental Impact: The most significant downside is the environmental harm, including methane production and potential soil and water pollution.
By understanding the pros and cons of each method, you can make a more informed decision that aligns with your values and circumstances. Whether you opt for composting, landfill, or a combination of both, the key is to be mindful of your impact on the environment and to adhere to local regulations.
The best method for disposing of your yard waste depends on various factors, including your available space, local regulations, and commitment to sustainability. Both methods have their pros and cons, and the right choice for you may be a combination of both.
Consider Professional Yard Waste Management
If you're looking for a hassle-free, eco-friendly way to manage your yard waste, consider using a professional service like Junk B Gone. Contact us today for a free quote and take the first step towards responsible yard waste management.