Same Day Junk Removal in Seattle
Get your space back today with Junk B Gone's prompt and reliable same-day junk removal services. We're here to clear your clutter quickly and responsibly, right when you need it.

They were on time as scheduled. They were curtious and professional. I would use them again and I would unhesitatingly recommend them to others.

The team at Junk B Gone was quick to respond, on time, and friendly while onsite. If needed I'd use them again. Highly recommend!
Free Onsite Quotes
No Hidden Fees
Friendly, Professional Team
We do the heaving lifting!
Environmentally Friendly
Disposal Methods
Experience the Fastest Junk Removal in Seattle Today
Are you in a rush to clear out unwanted items? At Junk B Gone, we specialize in same-day junk removal in Seattle, offering a fast and efficient solution for your urgent clean-up needs. Our team is equipped and ready to tackle any challenge, ensuring your space is clutter-free in no time.
Understanding the need for immediate action, our services cater to various scenarios, whether it's a last-minute house cleanout or a quick office decluttering. With our rapid response and efficient hauling, you can count on us for quick and reliable junk removal services in Seattle.
When time is critical, and you need urgent junk pickup, we're here to help. Our commitment to prompt and responsible junk disposal means you get the best service without any compromise on quality or environmental responsibility. For those unexpected situations, we are just a phone call away.
Our on-demand junk removal service in Seattle is designed to meet your immediate needs. We ensure a hassle-free experience, handling everything from pickup to disposal with utmost care.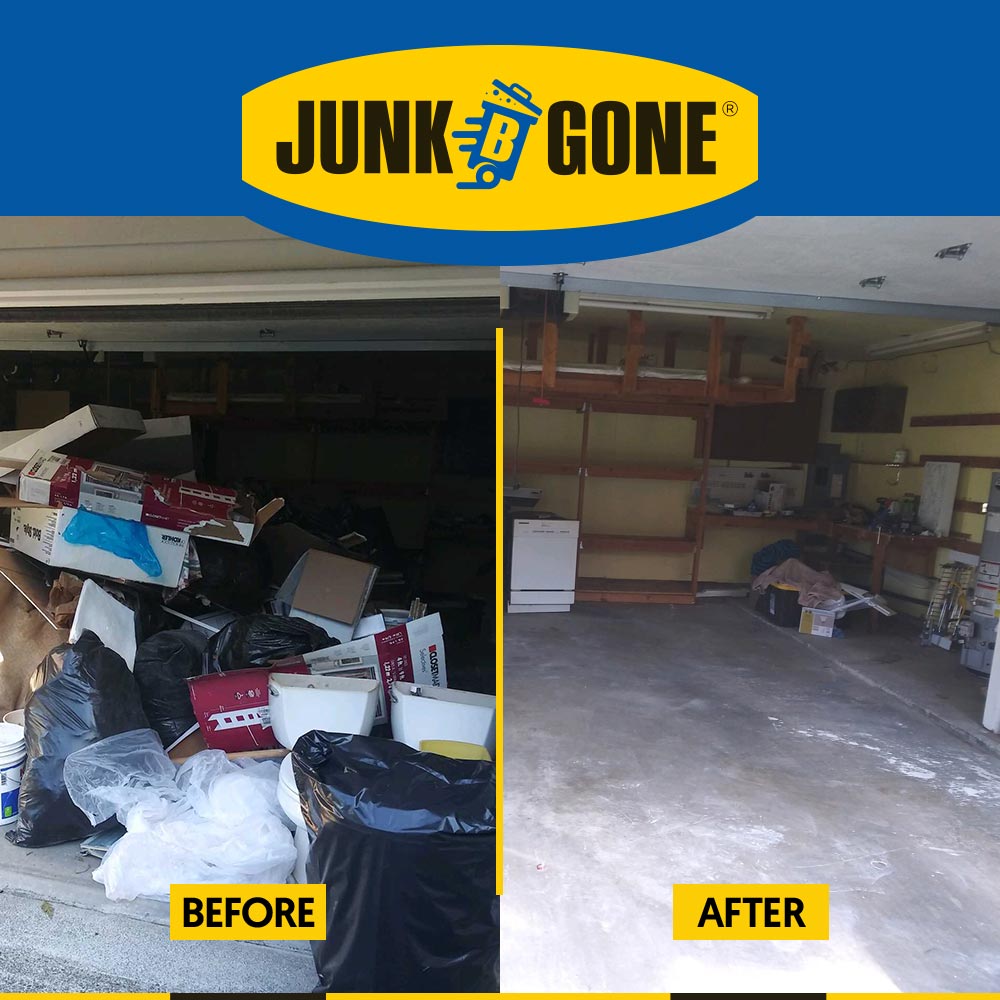 Why Choose Junk B Gone for Your Same-Day Junk Removal Needs in Seattle
When you need same-day junk removal, time is of the essence. We understand this urgency and are committed to providing immediate junk removal services tailored to your schedule.
Our team excels in quick junk removal services, ensuring that your space is cleared out without any delays. We pride ourselves on our ability to respond swiftly to your calls, making us the ideal choice for Seattle urgent junk pickup.
With Seattle fast junk disposal, we don't just promise speed; we guarantee efficiency and reliability. Our process is streamlined to handle your junk removal needs rapidly, making us a top choice for rapid junk removal in Seattle.
We offer Seattle on-demand junk removal services, making it easy for you to get rid of unwanted items without any hassle. We're equipped to handle all types of junk, ensuring that your emergency clean-up is managed professionally and responsibly.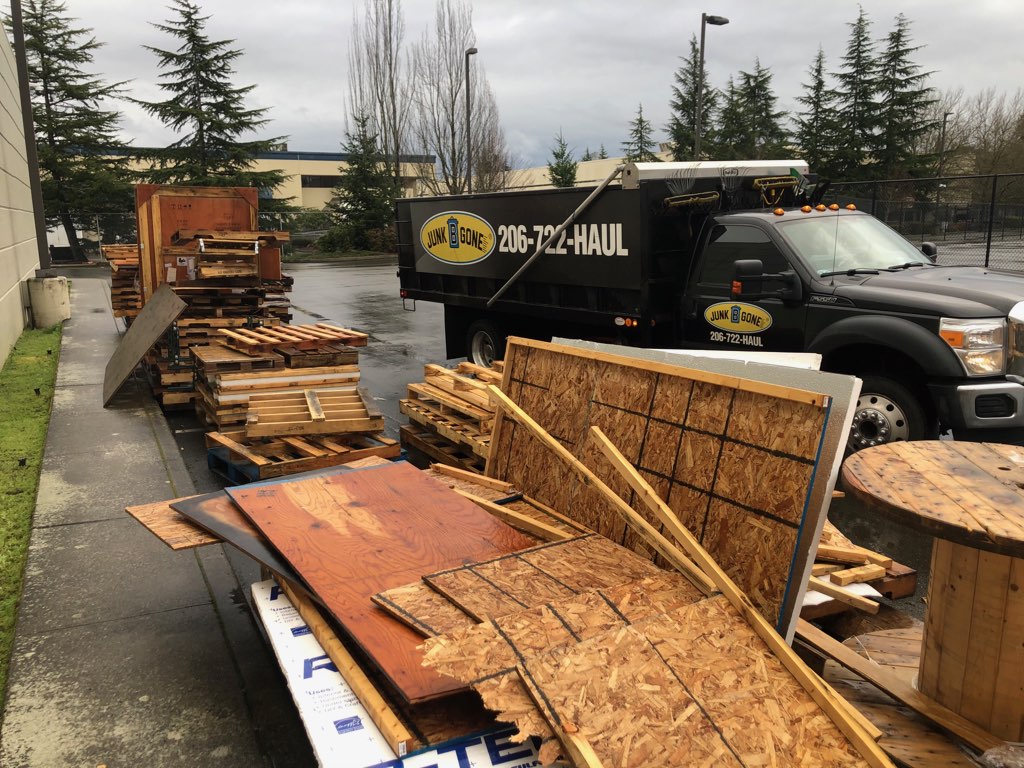 Streamlined Junk Removal Process for Immediate Service
Experience a hassle-free junk removal process with Junk B Gone. Our approach is designed for speed and efficiency, ensuring your junk is cleared out without delay
Quick Response: As soon as you contact us, we prioritize your request for immediate junk removal in Seattle.
Assessment and Quote: Our team swiftly assesses the junk to be removed and provides a clear, upfront quote.
Efficient Removal: We arrive equipped and ready to handle all types of junk, ensuring a quick and thorough clean-up.
Eco-Friendly Disposal: After removal, we sort the junk for recycling, donation, or eco-friendly disposal, aligning with our commitment to sustainability.
Customer Satisfaction: Your satisfaction is our priority. We ensure the job is done right, leaving you with a clean and clutter-free space.
Rely on Junk B Gone for urgent junk pickup in Seattle. Our process is streamlined to meet your immediate needs, ensuring quick and effective junk removal every time
Why Junk B Gone is the Best Junk Removal Company in Seattle WA
It takes much more than a couple of trucks and drivers to form a quality junk removal company in Seattle, WA. Experience, commitment, and professionalism are all necessary components in creating an efficient junk removal business. Junk B Gone is Seattle's most experienced full-service junk removal expert, with nearly 30 years as members of the Seattle community. We live here. We work here. We care about the good of the community just as much as you do. Here's just some of what we can bring to your junk removal job: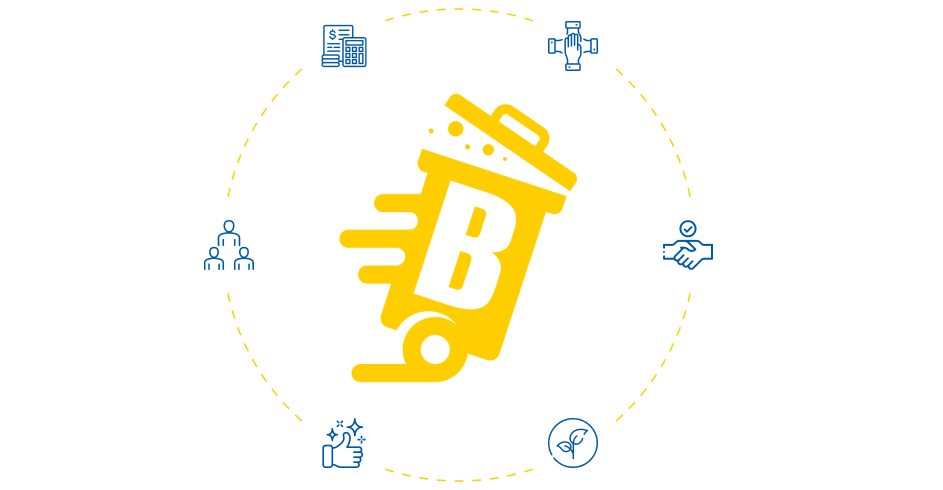 How Does Debris Removal Work?
Getting started with an debris removal with Junk B Gone Seattle is quick and easy.

Call, Text or Book Online
Call or text 206-722-4285 to set up an appointment or click here to book online and let us know what we'll be hauling.

Schedule an Appointment
We have availability Monday through Friday and are often available for same day pickup for our commercial customers.

We Haul it Away
We will load up and haul away all of the junk that needs to go and will clean up afterwards.
Here's a quick list of stuff that we remove here at Junk B Gone Seattle!  Our commitment to responsible handling means that we work to donate or recycle 80% of the items we remove. Let us make junk removal easy and eco-friendly for you.
If you don't see what you'd like hauled away here – don't worry –  we'll probably take it as long as it's not hazardous.
Call or text 206-722-4285 or click here to contact us to learn more about our commercial services.
need junk removal services?
Call, Text or Schedule Online.
Frequently Asked Questions