Choosing the right junk removal service in Seattle can be a daunting task, especially with multiple options at your disposal. Two standout services are Junk B Gone and 1800 GOT JUNK, both of which have established reputations in the Seattle area. In this blog, we'll do a comparative analysis of both these services to help you make an informed decision.
Overview
Junk B Gone: As a Seattle-based company, Junk B Gone understands the unique needs of local residents and businesses. Offering a range of junk removal services, including furniture removal, appliance removal, and a variety of commercial junk removal services, they've cemented their reputation through a dedication to customer service and environmental responsibility.
1-800-GOT-JUNK: With a national presence, 1-800-GOT-JUNK is a known name in the junk removal industry. Their services are expansive and reach far beyond the Seattle area, including general junk removal and specialized services.
What services do Junk B Gone and 1800 Got Junk offer?
Both Junk B Gone and 1800 GOT JUNK offer comprehensive junk removal services. However, Junk B Gone stands out with its specialized junk removal and recycling in Seattle, while 1-800-GOT-JUNK offers a broader range of services that may or may not be available in all locations. Here's the list of services they offer:
Junk B Gone
Appliance Removal
Furniture Removal Seattle
Garage Cleanout Seattle
Mattress Removal Seattle
Property Cleanout
Refrigerator Removal
Construction Debris Removal
Hot Tub Removal
Scrap Metal Removal Seattle
Shed Removal Seattle
Yard Waste Removal
Office Cleanouts
Estate Cleanout
1800 GOT JUNK
Household cleanouts
Attics
Basements
Crawl spaces
Garages and carports
Sheds
Storage units
Estates
Pre- and -post moving
Renovations
Disasters
How much does 1800 Got Junk and Junk B Gone cost?
The pricing structures for both companies are similar, offering free quotes and charging based on the amount of space and weight your junk occupies in their trucks. While both 1-800-GOT-JUNK and Junk B Gone are known for its upfront pricing, Junk B Gone is locally recognized for its competitive rates, making quality junk removal services more accessible to Seattle residents.
Junk B Gone also has larger trucks than 1800 Got Junk, which means that while the price for a 'full truck' is often about the same, the value that you're getting as the customer with Junk B Gone is much higher because our trucks will hold more junk – meaning that Junk B Gone offers lower pricing as a result.
Areas 1800 Got Junk and Junk B Gone Serve
While 1-800-GOT-JUNK serves a vast geographical area due to its international presence, Junk B Gone's main focus is on Seattle and surrounding regions. This local focus allows Junk B Gone to understand the specific needs and concerns of Seattle residents, offering tailored solutions for the local community.
Major Areas both target near Seattle
Major Areas Junk B Gone Serve in Seattle
Major Areas 1800 Got Junk Serve in Seattle
Customers Rating and Reviews
Customer ratings and reviews offer invaluable insights into the quality of service provided by a company. When it comes to choosing between Junk B Gone and 1800 Got Junk, it's wise to consult these firsthand experiences. These reviews shed light on our commitment to offering efficient, timely, and courteous services in Seattle. Customers commend our transparent pricing structure, professional team, and our emphasis on environmental responsibility. Furthermore, the consistent stream of positive feedback from our loyal customer base is a testament to our dedication to providing unmatched junk removal services in Seattle.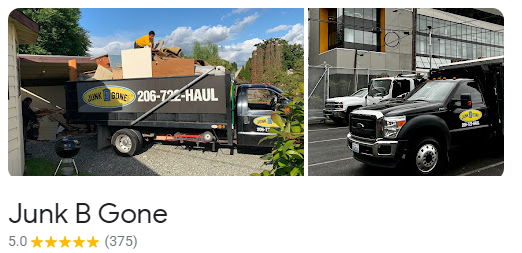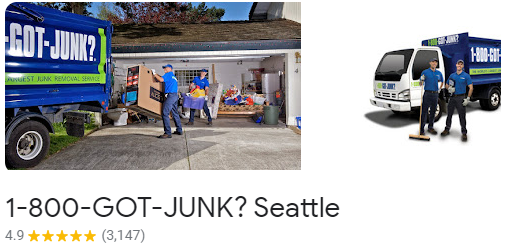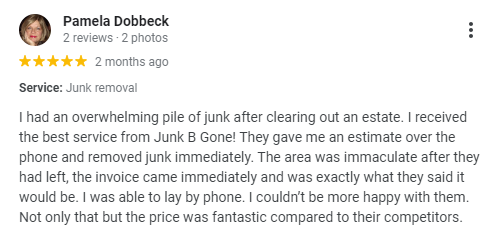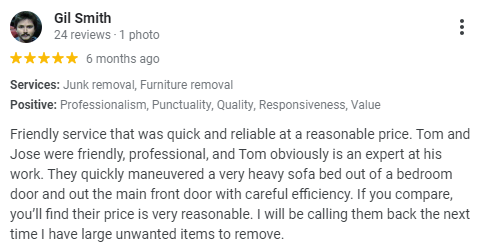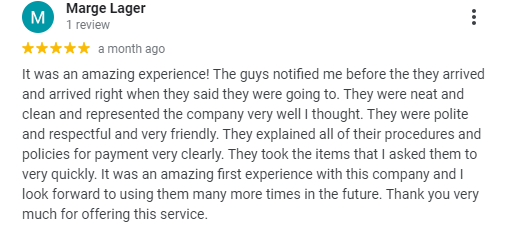 How Responsible They Are When It Comes to Eco-Friendly Initiatives
Sustainability is a strong focus for both Junk B Gone and 1-800-GOT-JUNK, with initiatives to donate, recycle, or responsibly dispose of items. Both demonstrate their commitment to preserving the Seattle environment.
Key Values of Junk B Gone and 1800 Got Junk
Distinguishing features and benefits can play a crucial role in choosing a service provider for your junk disposal needs. Here we outline the key unique selling propositions (USPs) for both Junk B Gone and 1800 Got Junk:
Junk B Gone
Locally Owned Business
Same-day Service
35+ years in Business
Transparent Pricing
Wide Range of Services
Larger Trucks
Commercial services
5 Star Google Rating
Donation pickup
Online Appointment

1800 Got Junk
Availability in 44 states
Same-day service
Responsible disposal and recycling
Full-service junk removal
Online Appointments
Estimate Process: In-person, by appointment only
Who you should choose?
Both Junk B Gone and 1-800-GOT-JUNK are credible options for your junk removal needs in Seattle. Your choice will depend on your specific requirements. If you prefer a service with a local focus, strong community ties, and competitive pricing, Junk B Gone is a great choice. On the other hand, if you prefer a National operator, 1-800 Got Junk is the right choice for you.
Remember, the right junk removal service for you will be one that meets your specific needs, and budget, and supports your values. So, whether you opt for Junk B Gone or 1-800-GOT-JUNK, rest assured you're choosing a service that values customer satisfaction and environmental responsibility.