Junk Removal
Laurelhurst WA
Junk B Gone – Your trusted partner for comprehensive junk removal services in Laurelhurst, contributing to a cleaner community and healthier environment.

Prompt, patient and professional. Will use again.

The team at Junk B Gone was quick to respond, on time, and friendly while onsite. If needed I'd use them again. Highly recommend!
Free Onsite Quotes
No Hidden Fees
Friendly, Professional Team
We do the heaving lifting!
Environmentally Friendly
Disposal Methods
Comprehensive Junk Removal Solutions in Laurelhurst
Are you searching for efficient junk removal services in Laurelhurst? Look no further than Junk B Gone. We have carved a niche in offering comprehensive junk removal services, catering to both residential and commercial clients in Laurelhurst. Our experienced team is proficient in handling any kind of junk – be it bulky furniture, electronics, yard waste, construction debris, or any unwanted items cluttering your space.
We understand that managing unwanted items can be daunting, especially when you lack the time, resources, or know-how. This is why we strive to make the process of junk removal in Laurelhurst as stress-free and convenient as possible. With just one call, you can schedule an appointment, and our dedicated team will arrive at your doorstep, ready to clear your space. We handle the heavy lifting, sorting, and transportation, leaving you with a clean, clutter-free area.
Our commitment goes beyond just junk removal. Junk B Gone is deeply devoted to promoting eco-friendly practices in Laurelhurst. We implement responsible disposal methods, with an emphasis on recycling and donating salvageable items. We make every effort to divert as much waste as possible from ending up in landfills, in line with our commitment to environmental stewardship. Choosing Junk B Gone for your junk removal needs in Laurelhurst means you're choosing a cleaner, greener community.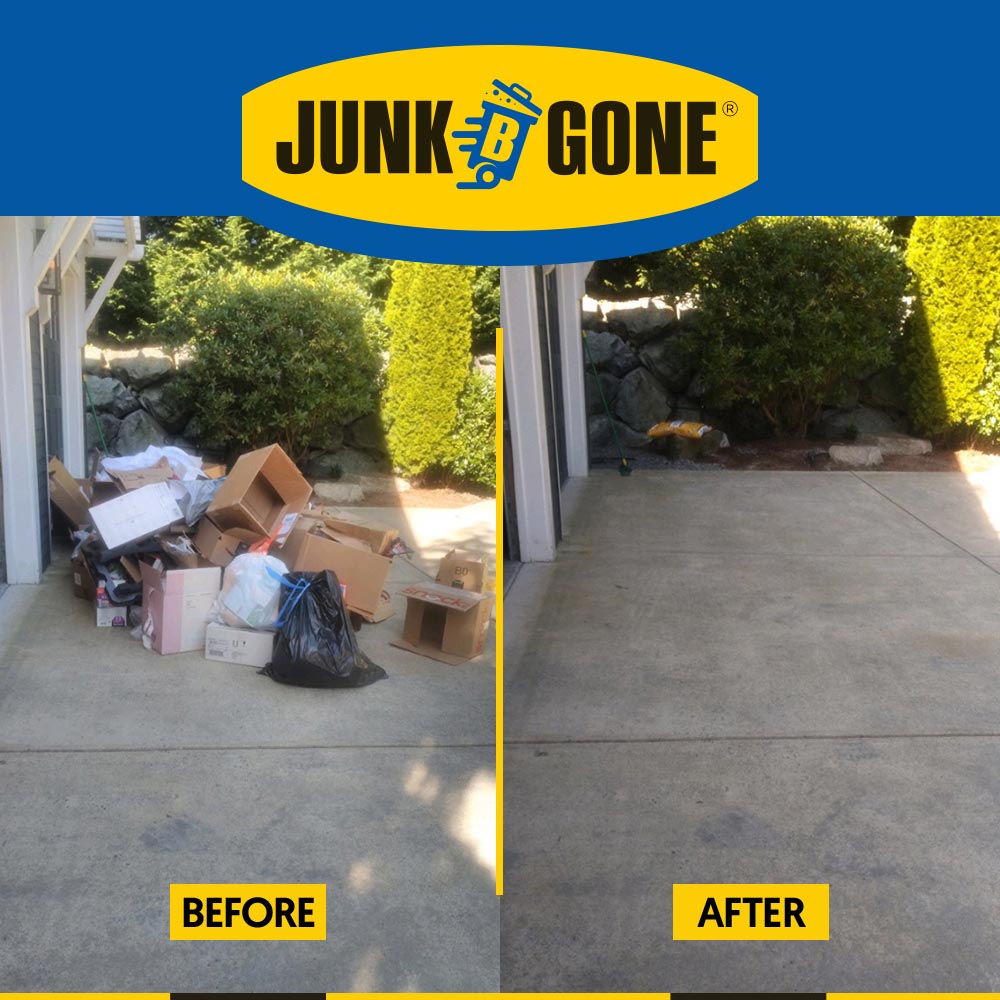 Need junk removed?
Call, text or schedule online.
How Much Does Junk Removal Typically Cost?
What does junk removal in Laurelhurst cost?
The cost of junk removal services in Laurelhurst can vary greatly depending on the specifics of your junk removal needs. Several factors come into play when determining the price, such as the volume of the junk, the nature of the items to be removed, the ease of access to the location, and whether any special disposal methods are required. At Junk B Gone, we strive to offer competitive and transparent pricing that provides excellent value for our clients. We provide upfront estimates based on the specifics of your junk removal task, ensuring there are no hidden costs.
Furthermore, we understand the importance of affordability. That's why our pricing model is structured to offer you value for money. Keep in mind, investing in professional junk removal in Laurelhurst is not just paying for the disposal of unwanted items. You are also saving valuable time and effort, avoiding potential injury from heavy lifting, and contributing to a cleaner, safer, and more sustainable environment. With Junk B Gone, you receive quality service, peace of mind, and a clutter-free space without breaking the bank.
Click the Request a Quote button below to get a free, no obligation on site assessment of your junk removal project.  We'll show up on site, assess your project and if you approve of our price we'll remove right then.  If not, our crew will simply move onto their next job.
How Junk B Gone Makes Junk Removal in Laurelhurst Efficient?
Laurelhurst Junk Removal Service
When it comes to efficient junk removal in Laurelhurst, Junk B Gone sets the benchmark high. Our systematic and detail-oriented approach ensures that no junk, big or small, remains untouched. We begin with a comprehensive evaluation of your junk removal needs, carefully assessing the volume and nature of the items to be removed. This careful planning not only guarantees efficient removal but also allows us to provide an accurate upfront cost estimate, ensuring complete transparency.
Efficiency is not only about speed but also about managing resources responsibly. At Junk B Gone, our Laurelhurst team is skilled at identifying items that can be recycled or donated, aligning our services with sustainable practices. With this thoughtful approach, we aim to minimize waste and reduce the load on local landfills, giving your unwanted items a chance for a second life whenever possible.
Moreover, our team is equipped with modern tools and equipment to ensure a smooth and swift junk removal process. From residential cleanouts to large-scale commercial junk removal tasks, we handle all with unmatched efficiency. The comprehensive training our crew members undergo allows them to tackle diverse junk removal challenges, delivering excellent service every time.
Lastly, we value your time. Our Laurelhurst junk removal team operates on a flexible schedule, offering services at a time convenient for you. We strive to perform our duties with minimal disruption to your routine. With a strong emphasis on customer satisfaction, our efficiency stems from our commitment to serving you better, making Junk B Gone the go-to choice for junk removal in Laurelhurst.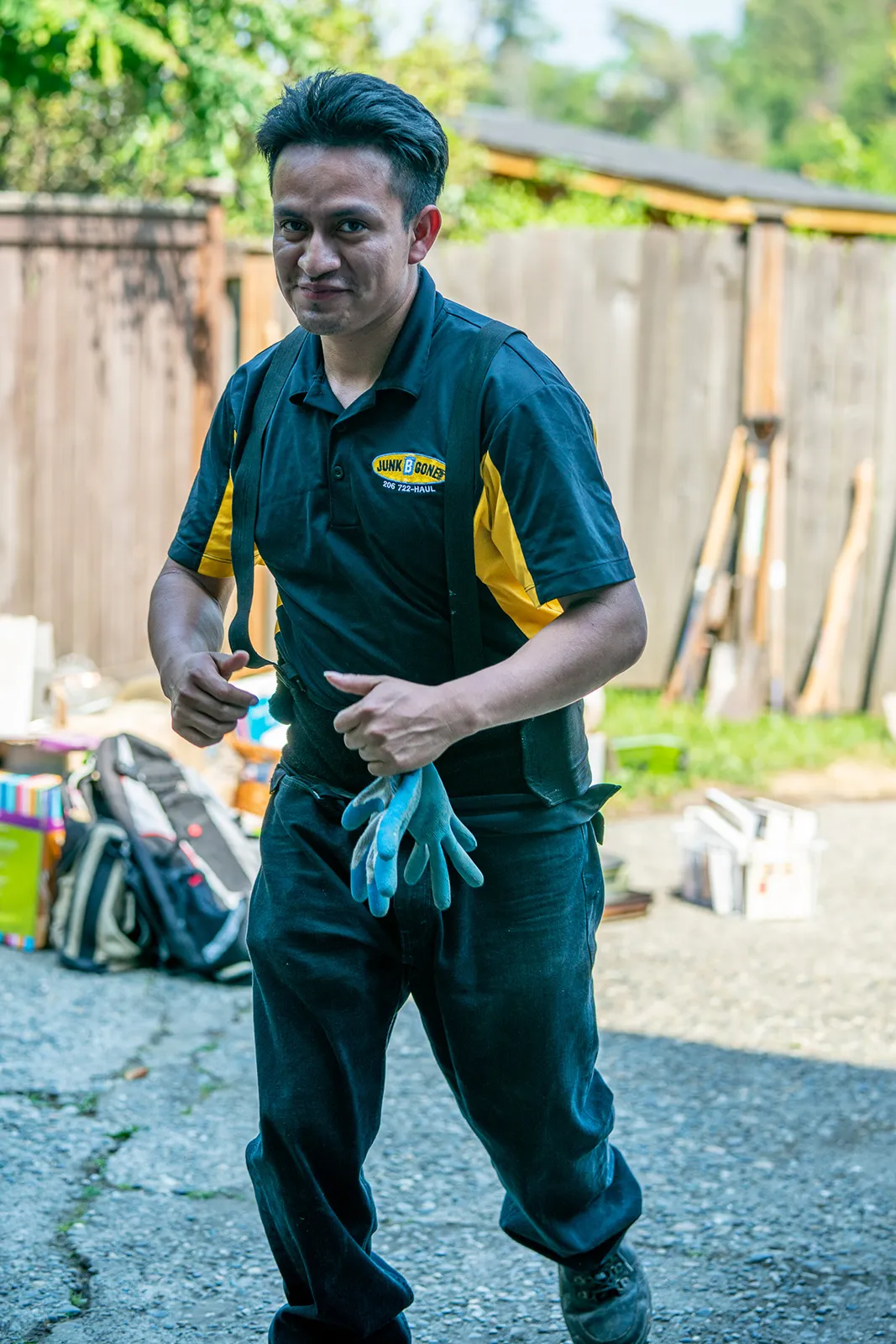 What are Junk B Gone's Laurelhurst Junk Removal Services?
So are you ready to find out the great offers Junk B Gone has for you in terms of junk removal services in Laurelhurst? Here is a list:
Office and Business Waste
Household Items and Trash
Don't see what you need removed?
No worries give us a
call 206-722-4285
and we can help.
What Does Junk B Gone Do with the Junk?
At Junk B Gone, our method of managing your unwanted items in Laurelhurst is marked by an emphasis on eco-friendly and conscientious procedures. When we pick up your junk, our primary goal is to minimize what goes to the landfill, thereby lowering our ecological footprint. Our meticulous team diligently sifts through the gathered items to identify those that can be rescued, recycled, or donated.
Items that can be used further are directed towards local Laurelhurst donation centers and charities, giving them a new lease on life and assisting those less fortunate. Recyclable materials, meanwhile, are sent to suitable recycling facilities, ensuring they're given a new purpose and reintegrated into the production cycle. By steadfastly sticking to these principled procedures, Junk B Gone not only delivers outstanding junk removal services in Laurelhurst but also makes a significant contribution to the local community and the environment.
In addition to our eco-friendly practices, we also prioritize customer satisfaction and convenience in Laurelhurst. We understand that junk removal can be a daunting task, so our team is trained to make the process as seamless as possible. From scheduling pickups at times that suit you to taking the utmost care while handling your items, our commitment extends beyond just junk removal. We aim to provide a service that puts your needs first, establishing Junk B Gone as a reliable part of the Laurelhurst community.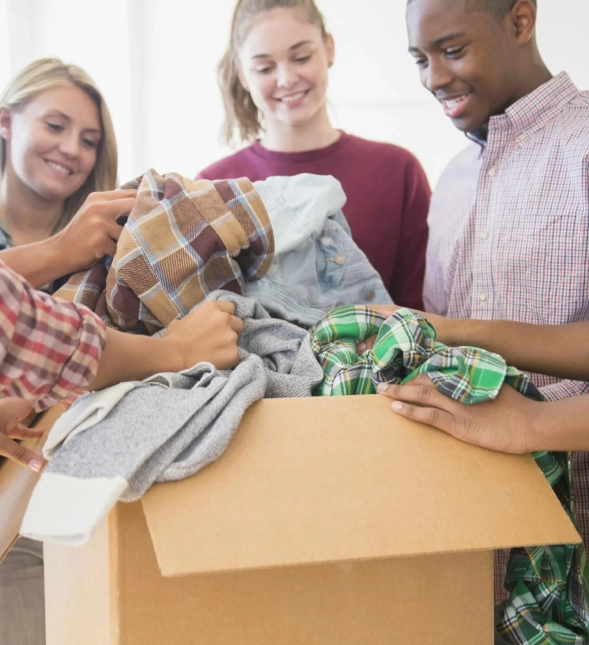 How Does Junk Removal Work?
Whether you have a few items that need removing or a full office clean out, Junk B Gone is the
Laurelhurst Junk Removal Company for the job!  We have an experienced team ready to serve you!

Call or Book Online
All you have to do is give us a call to
set up an appointment and let us
know what we'll be hauling

Schedule an Appointment
Before we arrive, you'll move your junk to an
easily accessible area where it's reachable
from our truck. That's it!

We Haul It Away
We load it up and haul it off, so you
don't have to look at it anymore
Junk Removal & Pick-up Services in Laurelhurst
Junk removal Laurelhurst WA Zip Codes
Why Junk B Gone is the Best Junk Removal Company in Laurelhurst?
Just having a couple of trucks or drivers isn't enough to do a quality junk removal job in Laurelhurst, WA. The components necessary in creating an efficient junk removal business include experience, commitment, and professionalism. We, at Junk B Gone, have all the qualities required for the most experienced full-service junk removal, being a member of the Laurelhurst community for nearly 30 years. We live here. We work here. We care about the benefit of the community just as much as you do. Here are just a few of the services we bring to you when you call us for a junk removal job: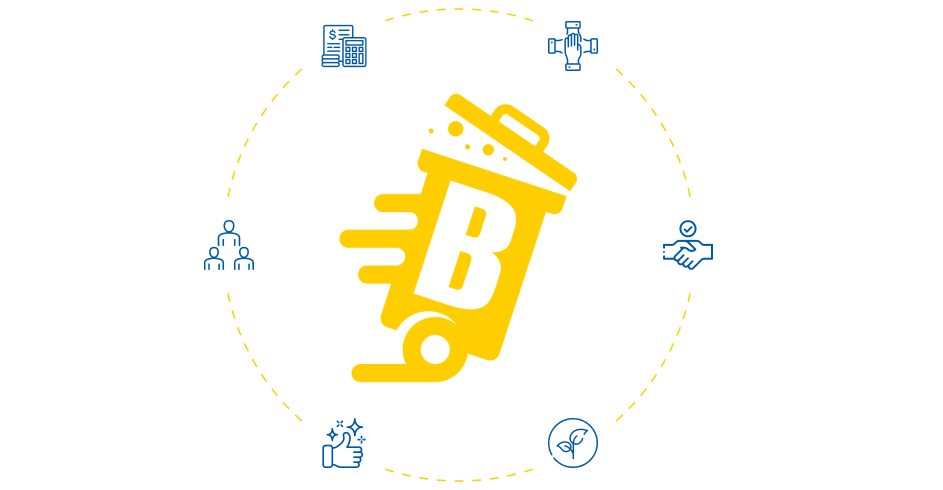 need junk removal services?
Call, Text or Schedule Online
Our Commitment to the Environment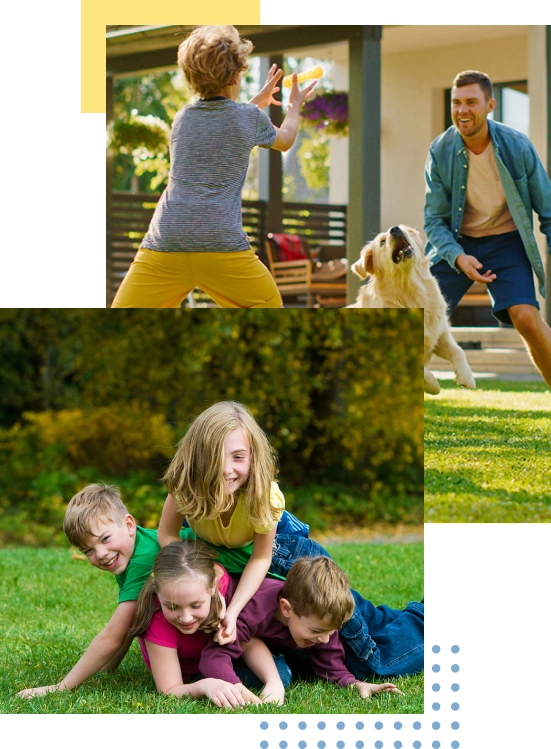 At Junk B Gone, we're devoted to offering environmentally responsible services, a commitment that's central to our Laurelhurst operations. As part of our offerings in Laurelhurst, we aim to alleviate the strain on overflowing landfill sites by intensifying our recycling and donation efforts. This ecological consciousness forms the heart of our operations here in Laurelhurst.
Landfills, currently burdened with the high volume of waste produced by Americans, present a serious issue. The search for new landfill locations becomes more challenging, especially considering that an average American generates about 1,000 pounds of waste each year, culminating in approximately 250 million tons of garbage annually across the country!
The escalating waste problem has undeniable environmental repercussions. Landfills contribute to up to 12% of global methane emissions, notably propelling climate change. Furthermore, toxic waste materials like mercury, lead, and cadmium often seep into the soil and groundwater from these landfills, causing widespread pollution. This contamination poses a severe threat to local biodiversity, potentially harming between 30 to 300 species inhabiting the areas around the landfill.
Aware of these hazards, Junk B Gone prioritizes the correct disposal of items that can't be recycled or donated, especially those that are hazardous or contain toxins. Appliances are frequently the main offenders in this regard.
For instance, refrigerators and freezers made before 1995 often contain chlorofluorocarbons, which substantially contribute to the depletion of the ozone layer and climate change. Similarly, air conditioners frequently contain hydrochlorofluorocarbons, another damaging substance. Other appliances may contain toxins such as mercury, PCBs, and hazardous oils, which are incredibly harmful to both human and animal life.
As a leading junk removal company in Laurelhurst, we are committed to donating, recycling, and ethically disposing of junk. We see this as our responsibility to our clients, our Laurelhurst community, and our planet. Our Laurelhurst services go above and beyond to ensure the protection of our environment while providing you with a hassle-free junk removal experience.
Book Now
prefer to talk or text?
How to Get Rid of Your Junk
So what are you waiting for? Don't let the junk in your home, backyard or commercial site gather dust and create clutter!
Call us today so we can remove it from your premises and make space for you!  Just click the Contact Us button and we will be there in a jiffy to help you remove your junk in an affordable way!
Free No Obligation Quotes
Frequently Asked Questions