Office Furniture Removal Seattle
Efficient Office Furniture Removal in Seattle – Junk B Gone makes your office decluttering effortless!

Junk B Gone is the way to go for all your trash/junk removal needs! Ann and Booker has a great group of hard working individuals that always show up and gets the job done every time I call. Junk B Gone have always displayed a high level of efficiency, friendliness, and diligence. If your not calling Junk B Gone you're missing out. Their pricing and experience is game changing.

We had a sizable amount of yard waste from pruning bushes and trimming some trees. I called Junk B Gone on a Thursday and they were able to quickly send a team to my house on Monday. Luther and Kibb arrived on time and quickly got to work. They even swept the area where we held the yard waste to make sure it was nice and clean before they left. Very friendly guys and great service. Definitely would recommend for your hauling needs!
Free Onsite Quotes
No Hidden Fees
Friendly, Professional Team
We do the heaving lifting!
Environmentally Friendly
Disposal Methods
Office Furniture Removal in Seattle: Streamlining Your Workspace
Office spaces, whether a startup office or a corporate tower, inevitably accumulate a vast range of furniture over time. As companies grow, downsize, or adapt to new ways of working, the need for professional office furniture removal becomes apparent. In a bustling city like Seattle, where businesses are continuously evolving, timely and efficient office furniture removal is not just a convenience, it's a necessity.
Junk B Gone understands this need and caters to businesses of all sizes across Seattle with professional, prompt, and reliable office furniture removal services. Our experienced team is equipped with the necessary tools and expertise to handle all kinds of office furniture, from desks and chairs to filing cabinets and cubicles. We don't just remove your office furniture; we do so with minimal disruption to your operations, ensuring that your workspace remains functional and conducive to productivity.
With a firm commitment to responsible disposal, Junk B Gone also ensures that your office furniture is disposed of in the most environmentally friendly way possible. Whether through recycling or donating to local charities, we strive to divert as much as possible from landfills, aligning our services with Seattle's ethos of sustainability. Trust in Junk B Gone to handle your office furniture removal needs with excellence and professionalism.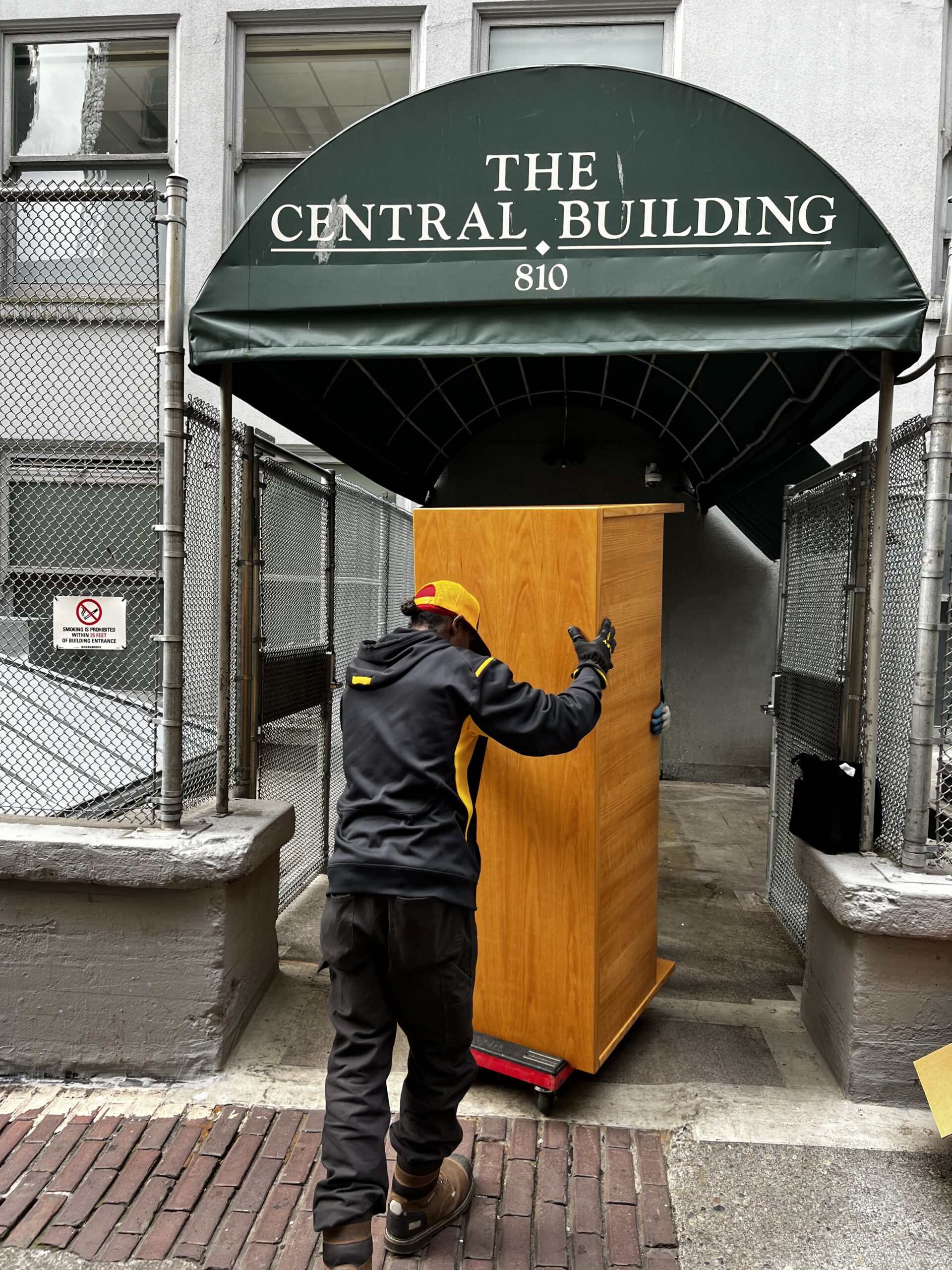 Make Junk B Gone Your Go To for Debris Removal
Choosing Junk B Gone as your go-to construction debris removal company in Seattle ensures not just an efficient, but also a seamless service experience. One of our standout features is our ability to offer same-day removal, providing our commercial customers with unparalleled convenience. We understand that construction timelines can be tight, and unexpected debris can slow down your progress. With our quick response and removal, we ensure your project stays on track and your site stays clean and safe.
We carry a robust $5M insurance policy, reassuring you that we are a reliable and secure choice for all your construction debris removal needs. Additionally, we understand that flexibility in payment terms is crucial for commercial customers, which is why we offer accommodating payment options that suit your business. Safety is paramount to us, and we've implemented rigorous safety programs to ensure job site safety is always met. We don't just remove junk; we deliver peace of mind.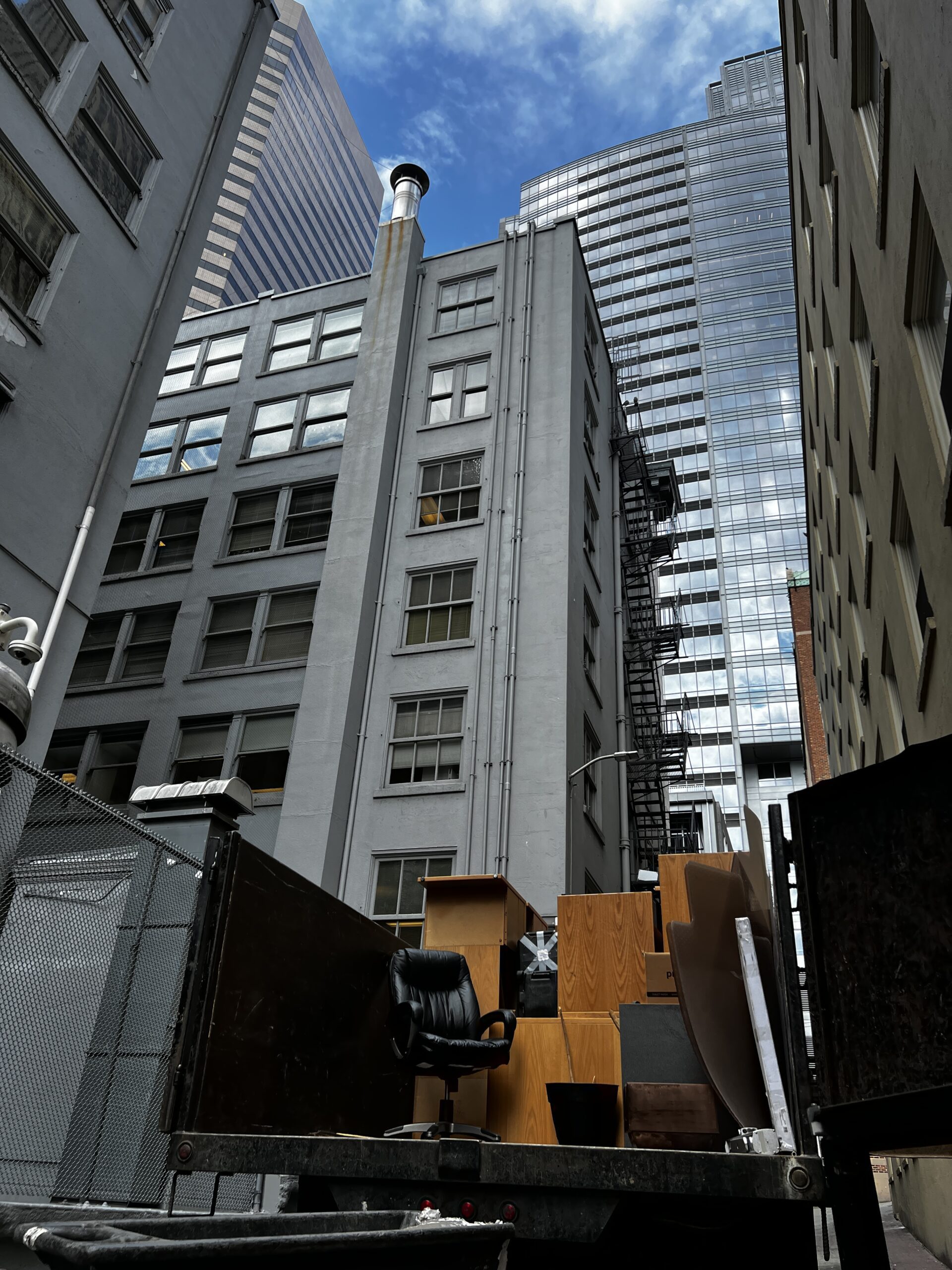 Our Comprehensive Office Furniture Removal Process
At Junk B Gone, our approach to office furniture removal is defined by efficiency, professionalism, and an unwavering commitment to environmental responsibility. Here's a step-by-step look at how we ensure a smooth, hassle-free experience for our Seattle-based business clients:
Initial Consultation: Your journey with us begins with an initial consultation, where we discuss your specific needs and assess the scope of the project. This helps us to understand exactly what type of furniture we'll be handling, the size of the project, and any specific logistical considerations we'll need to keep in mind.

Tailored Quote: Following the consultation, we provide a clear and transparent quote, tailored to your specific project. Our pricing is competitive and upfront, with no hidden fees.

Scheduling the Removal: We arrange a removal time that aligns with your schedule, minimizing disruption to your business operations. We understand the importance of time in business, and we strive to offer flexible and convenient scheduling.

Furniture Removal: On the scheduled day, our trained team arrives with all the necessary equipment to safely and efficiently remove your office furniture. We handle everything from disassembly to careful navigation of the furniture out of your office space.

Responsible Disposal or Recycling: Once the furniture is removed, we don't just head to the landfill. We evaluate each item and decide the best course of action. Items in good condition may be donated to local charities or organizations. Items that are not suitable for donation are assessed for recycling potential. We aim to divert as much as possible from the landfill, aligning with our commitment to sustainability.

Final Check: After the removal process, we do a final check with you to ensure your complete satisfaction. Our job isn't done until you're fully satisfied with our services.
Choosing Junk B Gone for your office furniture removal means opting for a seamless, environmentally friendly, and customer-centric process. We handle all the heavy lifting so you can focus on running your business.
Why Junk B Gone is the Best Junk Removal Company in Seattle WA
It takes much more than a couple of trucks and drivers to form a quality junk removal company in Seattle, WA. Experience, commitment, and professionalism are all necessary components in creating an efficient junk removal business. Junk B Gone is Seattle's most experienced full-service junk removal expert, with nearly 30 years as members of the Seattle community. We live here. We work here. We care about the good of the community just as much as you do. Here's just some of what we can bring to your junk removal job: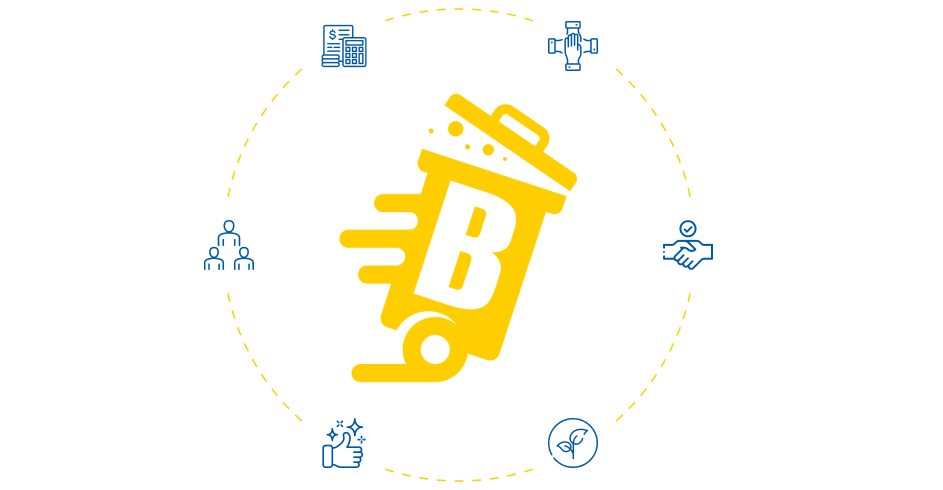 How Does Debris Removal Work?
Getting started with an debris removal with Junk B Gone Seattle is quick and easy.

Call, Text or Book Online
Call or text 206-722-4285 to set up an appointment or click here to book online and let us know what we'll be hauling.

Schedule an Appointment
We have availability Monday through Friday and are often available for same day pickup for our commercial customers.

We Haul it Away
We will load up and haul away all of the junk that needs to go and will clean up afterwards.
Here's a quick list of stuff that we remove here at Junk B Gone Seattle!  Our commitment to responsible handling means that we work to donate or recycle 80% of the items we remove. Let us make junk removal easy and eco-friendly for you.
If you don't see what you'd like hauled away here – don't worry –  we'll probably take it as long as it's not hazardous.
Call or text 206-722-4285 or click here to contact us to learn more about our commercial services.
Our Clients Speak: Trusted Office Furniture Removal in Seattle
At Junk B Gone, we value our clients' feedback. It not only helps us continuously improve but also gives potential clients a glimpse of our reliable and efficient office furniture removal services. Here are a few testimonials from some of our satisfied business customers:
Tech Firm in Downtown Seattle: "Our office renovation involved getting rid of several cubicles, desks, and chairs. We're glad we chose Junk B Gone. They were prompt, professional, and handled the task efficiently, allowing us to focus on our business operations. We highly recommend them."

Insurance Company in Seattle: "We recently moved to a smaller space and had to discard a significant amount of furniture. Junk B Gone provided a quote swiftly and carried out the removal process seamlessly. Their team is incredibly professional, and we appreciated their commitment to recycling and responsible disposal."

Seattle Law Firm: "Updating our office meant getting rid of old furniture, including large conference tables and file cabinets. Junk B Gone made the process easy, from scheduling to removal. Their team was careful not to disrupt our work environment. We couldn't have asked for better service."

Advertising Agency in Seattle: "When we expanded our office, we had many furniture pieces that needed removal. Junk B Gone's team was timely, courteous, and extremely efficient. They managed everything, including disassembly, lifting, and disposal. It saved us a great deal of time and effort."
Our reputation is built on trust, reliability, and excellence. We're proud to be the go-to choice for office furniture removal in Seattle. Choose Junk B Gone, and experience top-tier service firsthand!
The Variety of Office Furniture We Handle
From Desks to Filing Cabinets, We've Got You Covered
At Junk B Gone, we're equipped to handle a broad range of office furniture, ensuring we meet the diverse needs of our Seattle-based clients. Our team has the expertise and experience to safely remove and responsibly dispose of various types of office furniture, including but not limited to:
Office Chairs: Be it executive chairs, ergonomic chairs, guest chairs, or stackable chairs for your conference room, we handle them all.

Desks: From standard desks and computer desks to standing desks and L-shaped desks, we've got you covered.

Cubicles & Workstations: We understand that these can be bulky and complex to disassemble. Rest assured, our team is well-versed in efficiently removing these structures.

Filing Cabinets: Regardless of size or material, we can take care of your filing cabinets. This includes vertical and lateral filing cabinets, as well as multifunctional units with combined storage and desk space.

Office Tables: Conference tables, coffee tables, end tables, or training tables – we handle them all.

Bookcases & Storage Units: We can also dispose of any bookcases, storage units, or shelving units that you no longer need.

Break Room Furniture: This includes microwaves, refrigerators, dining tables, chairs, and other furniture typically found in office break rooms.
With Junk B Gone, you don't need to worry about the size, weight, or number of furniture items you need to have removed. We're committed to providing thorough, efficient, and environmentally conscious office furniture removal services in Seattle, allowing you to focus on what matters most: your business.
The Benefits of Professional Office Furniture Removal
When it comes to office furniture removal, attempting to handle the process in-house can pose several challenges. Office furniture is often bulky, heavy, and difficult to maneuver, particularly in larger office spaces. There's a significant risk of injury to employees who aren't trained in proper lifting techniques or don't have access to the right equipment. In addition to this, it can be a drain on your staff's time and focus, taking them away from their core responsibilities.
Moreover, once you've managed to move the furniture, the question remains: what do you do with it? Proper waste management is a legal requirement and an ethical obligation. Disposing of a large amount of office furniture isn't as simple as taking it to the dump. There are recycling regulations to consider, potential opportunities for furniture donation, and the environmental impact to keep in mind.
This is where professional services like Junk B Gone come into play. We specialize in office furniture removal in Seattle, providing a comprehensive service that addresses all these challenges. Our team is trained and equipped to safely remove furniture of all types and sizes, minimizing disruption to your workplace. Furthermore, we have established processes for responsible waste management, ensuring that we recycle or donate wherever possible.
Choosing Junk B Gone for your office furniture removal means choosing safety, efficiency, and environmental responsibility. Allow us to take the burden of office furniture removal off your shoulders, so you can focus on what matters most – running your business.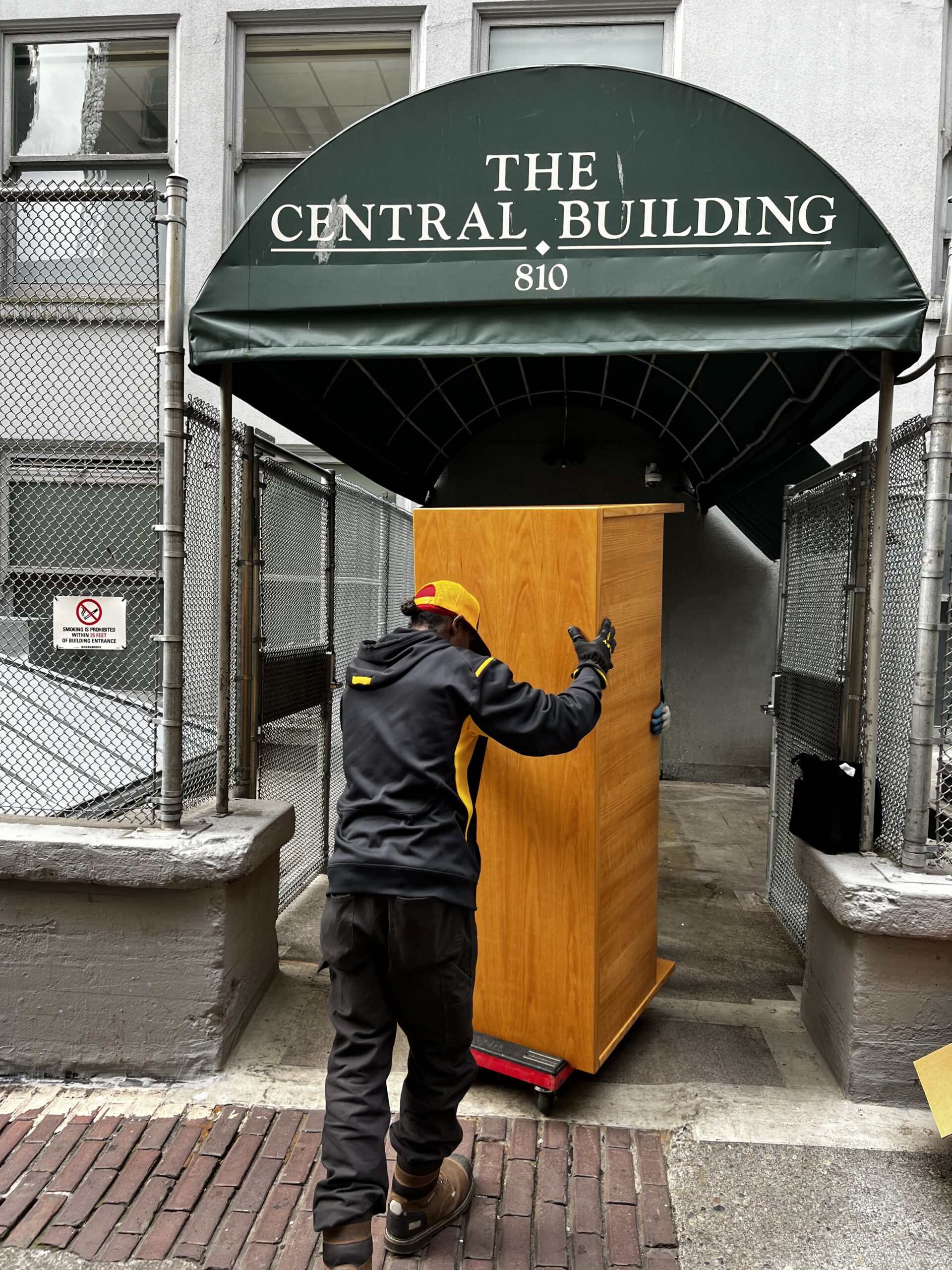 need junk removal services?
Call, Text or Schedule Online.
Ready for a Clutter-Free Office Space? Get in Touch Today!
Decluttering your office space is just a call away! With Junk B Gone, you can say goodbye to the cumbersome task of office furniture removal. We handle everything from pick-up to disposal or recycling, saving you time, effort, and potential workplace disruptions.
Is your office relocating, renovating, or simply in need of a furniture update? Don't let unwanted furniture become a burden. Our team of professionals in Seattle is ready to help you reclaim your space and ensure a smooth, hassle-free removal process.
It's easy to get started! For a free, no-obligation quote, give us a call at (206) 722-4285 or fill out our online contact form. Our friendly customer service team will guide you through the process, answer any questions, and schedule a pick-up at a time that suits you. At Junk B Gone, we're committed to making office furniture removal easy and convenient. Reach out to us today and experience the difference!
Frequently Asked Questions