Residential Recycling Rules
What Should You Recycle?
Remember to keep it as easy for them as possible. Things like individual sandwich bags can get caught in the machinery and stop sorting for a long period of time.
Seattle has had its fair share of what many call "wishful recycling", where consumers don't check lists and just "hope" or "are pretty sure" that certain items are recyclable. Only the purest form of the material can be recycled. These regulations are not put into place to overcharge you for services previously rendered, but to reflect the changing market for getting these materials sold to the correct place. Many places around the world are no longer accepting recyclables from the US because of this "wishful recycling".
So keep it clean and as simple as possible, and remember this list while you are sorting your waste:
Aluminum and tin cans
Clean aluminum foil and clean foil trays

If there is ANY food stains that cannot be cleaned put these items in the garbage bin not recycling cart

Soda cans
Metal food cans (such as canned veggies, fruit, etc.)
Plastic
Plastic plant pots (cleaned w/ no soil)
Plastic cups
Shampoo and conditioner bottles
Household cleaner bottles
Detergent
Fabric softener bottles
Yogurt, dairy and margarine tubs
Paper Products
Newspapers and inserts
Mail (windowed envelopes are accepted)
Cereal and dry food boxes (no plastic liners)
Frozen food boxes (also no plastic)
Paperback books
Phone books, magazines, and catalogs
Non-foil wrapping paper (also can't be cellophane wrapping paper)
Juice boxes and broth containers
Ice cream cartons and milk cartons (soy, coconut, almond, and regular)
Paper cups
Cardboard
Cardboard without a waxy or plastic (laminated) coating
Size limit = 3 ft. x 3 ft.

*Tip: Rember to take off all the tape from cardboard boxes.
Glass jars and bottles, any color
No broken glass
All recycled glass containers need to be unbroken and cleaned
Metal
Less than 35 pounds
Limit 2 ft. x 2 ft.
What Should You Compost?
Food and food-soiled paper products such as paper towels, paper napkins, and cardboard must be composted. Layer food scraps, yard waste, and paper in your compost container. Turn over (mix it up) once a month with a hayfork or shovel. No plastic, glass, metal, liquid waste, cooking oil, stickers that come on fruits, pet waste, or litter. There is an informative guide to making your own compost heap.
If you do not have the space or want to do it yourself, King county can provide a Food/Yard Waste Cart and will collect it also. These carts can be included in your garbage service fee or as an added service fee at signup.
Grass clippings & leaves
Houseplants (no pots)
Weeds
Twigs, small branches, and roots from pruning
Food scraps
Fruit, vegetable scraps and leftovers
Bread, pasta, and grains
Eggshells and nutshells
Coffee filters and grounds
Teabags and tea leaves
*Tip: Keep meats, poultry, fish, and bones out of your compost since they will attract pests by smell. Even if you have an animal-proof composting container they will still search it because of the smell. Dairy products can also attract unwanted visitors.
Food-soiled paper
While you cannot recycle paper that has been soiled by food (not anything else)
Greasy pizza delivery boxes (no condiment packets or plastic trays)
Paper towels and napkins (no cleaners or chemicals)
Shredded paper (small amounts)
Uncoated paper plates*
Paper grocery bags containing food scraps
Paper egg and berry cartons
*Uncoated paper does not have a shiny surface.
*Tip: Currently, the regional composting facility does not accept compostable plates, cups, and utensils. As they do not break down fast enough. You can still use them in your personal compost bin.
Don't have room for a compost bin in your backyard, or don't want to deal with one? We can take care of you. Give us a call today at (206) 722-4285 or fill out our online form.
Everything Else That Shouldn't Be With Your Recycling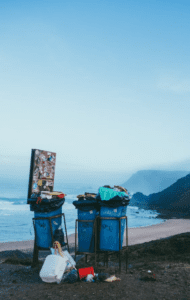 Plastics
Preformed plastic packaging
Take-out containers
Styrofoam packaging and packaging peanuts*
Caps and lids
Polystyrene cups and egg cartons
Stretch wrap
Motor oil and antifreeze containers
Plastic bakery, meat trays, plates and utensils
Empty prescription vials
Plastic Bags/Dry Cleaner bags

These can be recycled (ONLY IF THEY ARE GROUPED TOGETHER) at designated drop-off locations.
Check here for rules regarding plastic bags.
*Tip: Reuse packing peanuts and any packaging materials as much as possible. Formed styrofoam can be broken down and used as a homemade packing peanut.
Paper
Disposable diapers
Ribbons or foil wrapping paper
Hardback books*
Wax and plastic-coated cardboard
Used tissues and paper towels with cleaning solutions
*Tip: Donate books to a local charity or school.
Glass
Mirrors, window glass, and broken glass
Ceramics and dishes
Incandescent and halogen light bulbs only (no compact fluorescent tubes, lights or bulbs (CFLs)
Aluminum and tin
Empty aerosol spray cans
Latex paint cans containing hardened or solidified paint (leave the top off)*
Oil containers
*Tip: Dry out paint before putting it in the garbage – mix with kitty litter or paint hardener.
Metal
Sharp or greasy metal
Metal caps and lids
Clothes hangers*
Small appliances
*Tip: Donate clothes hangers to a local charity.
Other Garbage Items
Garden hoses, light strings*
Pet waste and litter (double bagged and tied shut)
*Tip: Do you toss damaged clothes, shoes and household linens into the trash because you think they can't be donated? We've got great news: items that aren't reusable can be recycled into industrial wiping cloths, carpet padding, insulation and more.
Besides removing large or laborious rubbish items, we are also a local rubbish removal service. Give us a call today at (206) 722-4285 or fill out our online form.
Don't Throw These Away With Your Garbage…
The rest of these items will need to be hauled away and disposed of or recycled by special means.
Batteries
Batteries can be taken to Household Hazardous Waste Collection Facility or you can visit Call2Recycle
Alkaline batteries
"Button" batteries
Motor vehicle batteries
Rechargeable batteries
UPS (Uninterruptible power supply batteries)
Sharps
Medical instruments with needles or sharp edges are illegal to dispose of through normal waste collection services in Washington. Visit the King County website for more information
Computers – Mainframe, desktop, and laptops
Computer monitors  – Cathode ray tubes (CRTs) and flat panel
TVs (all)
Cell phones
*Tip: Visit Take it Back Network for electronics recycling
Large appliances
Refrigerators and freezers
Dishwashers, clothes washers and dryers
Stoves, ranges, and furnaces
Of course, we can take care of your mattresses and large appliance removal. We are not just a single truck but a fleet available so that we can remove large items the right way. Give us a call today at (206) 722-4285 or fill out our online form.
Mercury-containing products
Fluorescent bulbs and tubes

Including "green-tipped" or "low mercury" tubes and compact fluorescent (CFLs) bulbs and tubes.
Contact Light Recycle Washington about disposal

Mercury switches, thermometers, and thermostats
*Tip: For any possible hazardous waste, visit the How Do I Get Rid of…? website to find out what to do with the items in question.
Other Items
Furniture
Old carpet and carpet scraps
Hot tubs
Old tires
TVs
Lumber
Cars
Junk B Gone offers full-service junk removal for your home. Our professional and friendly team is here to meet most of your junk removal requirements. We are longtime members of the Seattle community and have been for 30 years now. You won't be able to find a better junk removal service that can meet your needs like we will. Give us a call today at (206) 722-4285 or fill out our online form.
---
Sources: seattle.gov, kingcounty.gov