Quick Reference Guide on where to dump Yard Waste
Are you faced with a growing pile of yard waste and wondering, "Where can I dump yard waste near me?" Don't worry, we've got you covered! Properly disposing of yard waste is essential for maintaining a clean and well-maintained outdoor space. In this blog post, we'll explore various options for yard waste removal and introduce you to a more convenient solution provided by Junk B Gone.
Local Dumping Sites and Recycling Centers:
City or County Waste Management Services: Many cities and counties have designated locations where residents can drop off their yard waste. Check with your local waste management services or visit their website to find the nearest drop-off point.
Recycling Centers and Composting Facilities: Some recycling centers or composting facilities accept yard waste for processing. These centers transform organic materials into valuable resources like compost or mulch. Research the recycling centers or composting facilities in your area to determine if they accept yard waste. One such option in the Seattle area is Cedar Grove Compost in Woodinville or Bellevue they charge $30-40 per yard to dispose of yard waste plus a 24% energy recovery fee.
Community Yard Waste Collection Events: Keep an eye out for community-sponsored yard waste collection events. These events are usually held periodically and provide a centralized location for residents to dispose of their yard waste.
While these options may provide a way to dispose of your yard waste, there is an even more convenient solution available: professional yard waste removal services offered by Junk B Gone.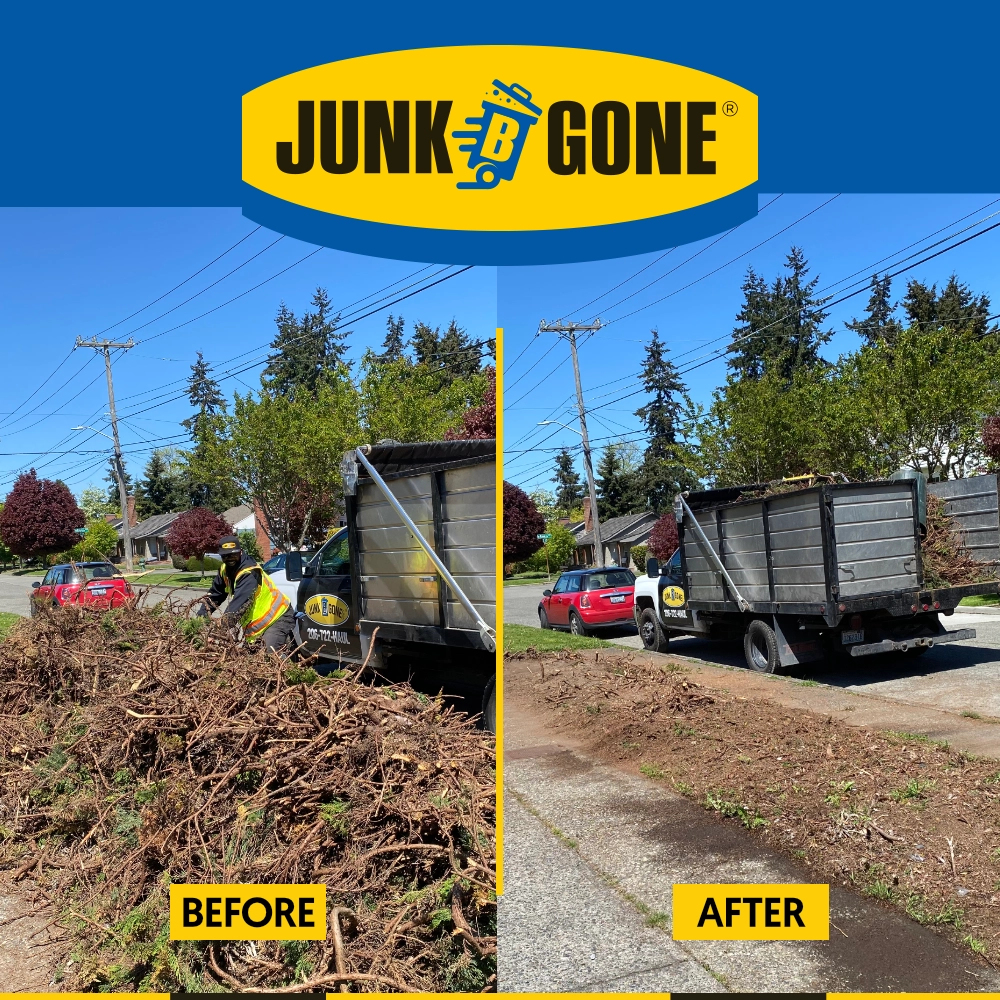 Why Choose Junk B Gone for Yard Waste Removal?
Convenience: Say goodbye to the hassle of loading and transporting yard waste yourself. Junk B Gone's team will come to your location, saving you time and effort.
Don't have a truck or trailer? Let's face it – not many people in Seattle have a truck or trailer to haul a bunch of yard debris. That's where we come in with our massive dump trucks to take all of your yard waste in one trip – quickly and easily. We just click a button to dump the yard waste versus you having to physically remove it from a truck or trailer.
Proper Disposal: We ensure that your yard waste is disposed of responsibly and in compliance with local regulations. Our commitment to the environment means that we prioritize recycling and proper waste management practices.
Efficiency: Our experienced team knows how to efficiently handle yard waste removal, no matter the size or volume. We have the equipment and expertise to tackle the job quickly and effectively.
Safety: Yard waste can be heavy, bulky, or contain potentially hazardous materials. Let our trained professionals handle the removal safely, minimizing any risk to you or your property.
By choosing Junk B Gone for your yard waste removal needs, you can save yourself the hassle and labor involved in finding a dumping site and transporting the waste yourself. Our reliable and professional service ensures a hassle-free experience, leaving you with a clean and tidy outdoor space.
Ready to get rid of your Yard Waste?
Don't let the question "Where can I dump yard waste near me?" become a burden. Contact Junk B Gone today at 253-722-4285 or click here to schedule your yard waste removal appointment. Let us handle the heavy lifting and disposal, so you can enjoy a well-maintained and clutter-free outdoor space. Experience the convenience and quality service provided by Junk B Gone!
Remember, when it comes to yard waste removal, Junk B Gone is the trusted choice. Say goodbye to the hassle and labor, and let us take care of your yard waste for you.