Furniture Removal
Kirkland WA
Your reliable partner for all your Furniture Removal Kirkland WA needs – Quick, efficient, and eco-friendly service you can trust.

These guys made getting rid of some old furniture fast, easy, and painless! Also, a great deal, absolutely worth every penny to not have to haul a huge broken loveseat down our second floor apartment stairs ourselves! Super friendly and communicated everything clearly, would absolutely use their service again! 10/10 would recommend!

Ann coordinated everything for us. She was an absolute peach to work with!! Miguel and Luis came to our home to remove old bed and frame and a few boxes of junk. This was in Ballard and parking is scarce. The driveway is very small and they were unable to get truck to the house. This was not an issue for them!! They were amazing at getting all the junk out (second floor) and loaded that stuff on to a hand truck. They were personable, professional and quite the t...
Free Onsite Quotes
No Hidden Fees
Friendly, Professional Team
We do the heaving lifting!
Environmentally Friendly
Disposal Methods
Premier Furniture Removal Solutions in Kirkland
In the beautiful city of Kirkland, maintaining the cleanliness and beauty of your surroundings is essential, and that's where we come in. At Junk B Gone, we offer top-tier furniture removal services in Kirkland, customizing our services to meet your specific needs. We pride ourselves in providing quick, efficient, and reliable furniture removal solutions to both residential and commercial clients, helping you keep your spaces clean and uncluttered.
We understand that getting rid of unwanted items can be a daunting task, which is why we are committed to making the process as smooth and hassle-free as possible for you. Our expert team is well-trained in handling a wide array of items, from old furniture and appliances to construction debris and yard waste. With our robust Kirkland furniture removal services, you can count on us to handle your junk responsibly and professionally.
At Junk B Gone, we don't just focus on removing your junk; we also strive to do it in the most environmentally-friendly way possible. We adopt a 'Reuse, Recycle, and Repurpose' policy where we ensure that any items that can still be used are donated to local charities, and recyclable materials are sent to recycling facilities. Trust us to be your go-to partner for all your furniture removal Kirkland requirements, and enjoy the peace of mind that comes with a clean, clutter-free space.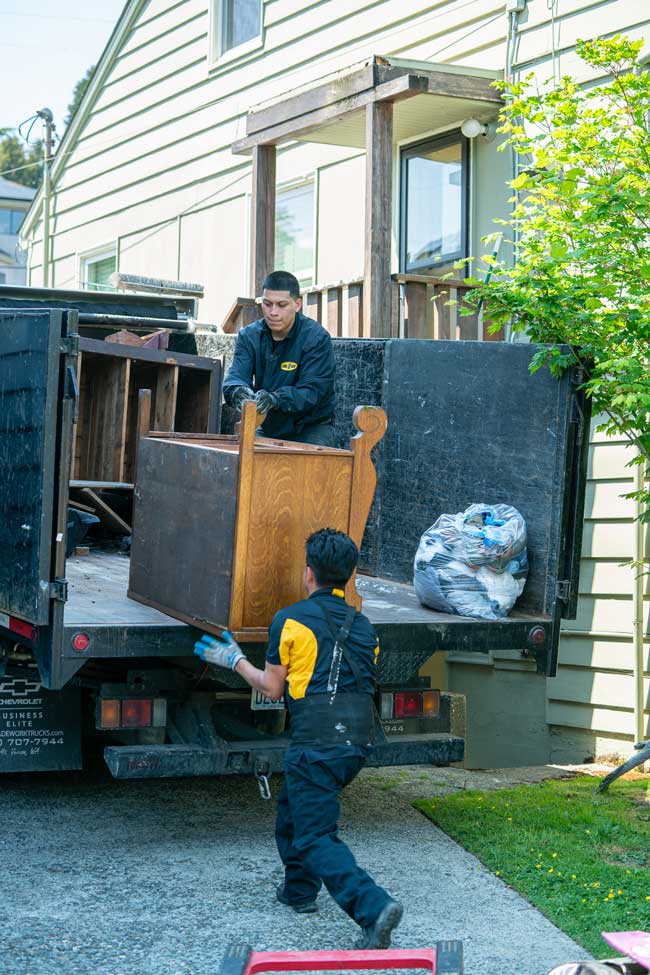 Need junk removed?
Call, text or schedule online.
How Much Does Furniture Removal Typically Cost?
What does furniture removal in Kirkland cost?
When considering furniture removal in Kirkland, one of the main questions on your mind is likely to be the cost involved. At Junk B Gone, we believe in providing a service that is not only high-quality but also reasonably priced. Our pricing structure is based on the volume of junk you need removed, meaning you only pay for the space your items take up in our truck. This allows us to offer competitive rates while ensuring top-notch service.
We understand that every furniture removal project is unique, and thus, we offer free, no-obligation quotes to our potential customers. This involves a quick, onsite assessment of your junk by our team, ensuring we give you the most accurate estimate possible. Unlike many other services, there are no hidden costs or fees with our Kirkland furniture removal service. What we quote is what you pay. This transparency and affordability are what make us a top choice for furniture removal in the Kirkland area.
Click the Request a Quote button below to get a free, no obligation on site assessment of your furniture removal project.  We'll show up on site, assess your project and if you approve of our price we'll remove right then.  If not, our crew will simply move onto their next job.
How Junk B Gone Makes Furniture Removal in Kirkland Efficient
Kirkland Furniture Removal Service
At Junk B Gone, we've streamlined our furniture removal Kirkland services to ensure maximum efficiency. We understand that your time is valuable, whether you're a homeowner needing to clear out a garage, or a business owner with commercial waste removal needs. That's why our process is designed to be quick, painless, and hassle-free.
The first step in our efficient process is easy scheduling. You can book our services online or over the phone, at a time that works best for you. We aim to accommodate even the busiest schedules, offering same-day and next-day appointments whenever possible. Our team will arrive within the scheduled two-hour window, ensuring you aren't left waiting around.
Upon arrival, our friendly and professional team will assess your junk and provide a no-obligation quote based on the volume of items to be removed. Once the price is agreed upon, our team will get to work right away. They'll handle everything, from lifting and loading to clean-up, ensuring the area is left tidy and junk-free.
Our commitment to efficiency doesn't stop at the job site. We also prioritize eco-friendly disposal methods, sorting through the collected items for recyclables and donations. This way, we ensure that as little as possible ends up in the landfill. With Junk B Gone's Kirkland furniture removal services, you're choosing a company that values your time and the environment.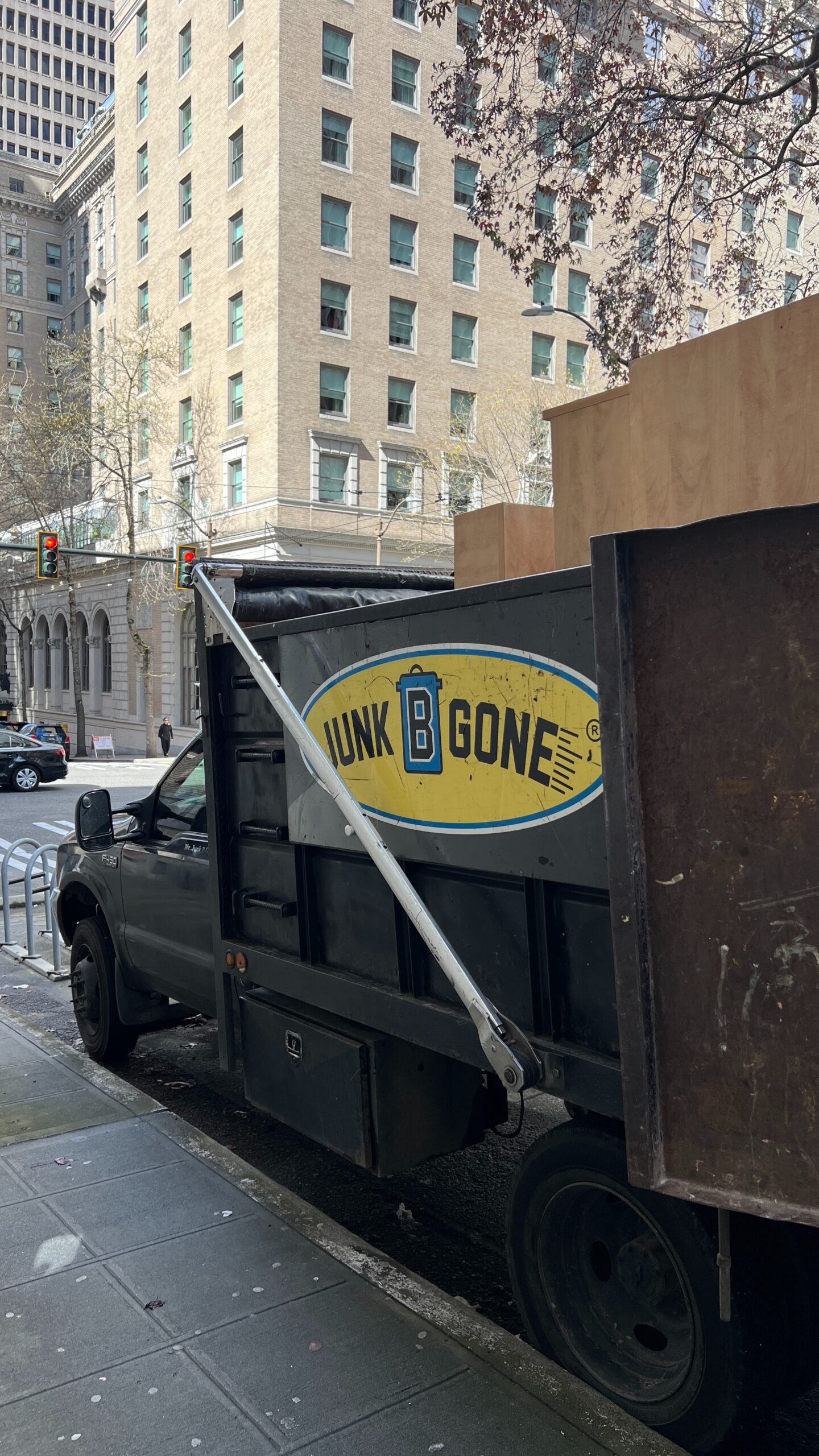 What are Junk B Gone's Kirkland furniture Removal Services?
So are you ready to find out the great offers Junk B Gone has for you in terms of furniture removal services in Kirkland? Here is a list:
Don't see what you need removed?
No worries give us a
call 206-722-4285
and we can help.
What Does Junk B Gone Do with the Junk?
At Junk B Gone, our approach to handling your discarded items in Kirkland is underscored by responsible and environmentally conscious practices. When we collect your junk, our overriding aim is to minimize what ends up in landfills, thereby reducing our ecological impact. Our diligent team carefully sifts through the collected items to single out those that can be salvaged, recycled, or donated.
Items with potential for further use are directed towards local Kirkland donation centers and charities, breathing new life into them and assisting those in need. Recyclable materials, on the other hand, are dispatched to appropriate recycling facilities, ensuring they are repurposed and reintegrated into the production cycle. By adhering to these principled practices, Junk B Gone not only provides standout Kirkland furniture removal services but also makes a positive contribution to the local community and the environment.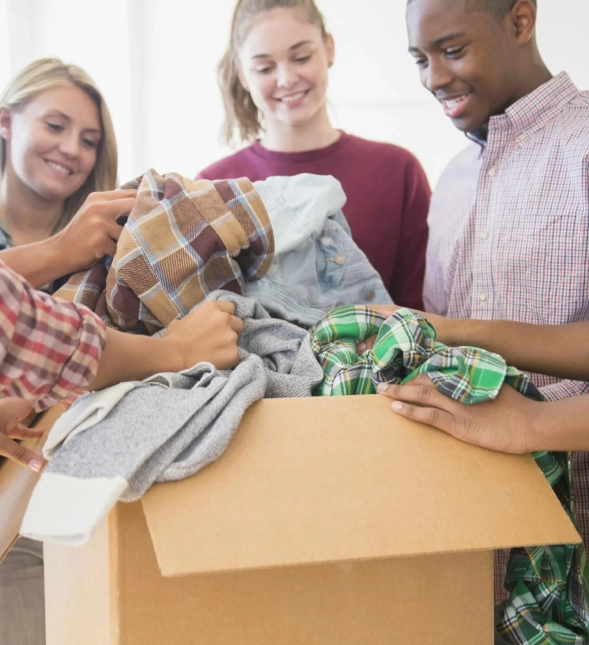 How Does Furniture Removal Work?
Whether you have a few items that need removing or a full office clean out, Junk B Gone is the
Kirkland Furniture Removal Company for the job!  We have an experienced team ready to serve you!

Call or Book Online
All you have to do is give us a call to
set up an appointment and let us
know what we'll be hauling

Schedule an Appointment
Before we arrive, you'll move your junk to an
easily accessible area where it's reachable
from our truck. That's it!

We Haul It Away
We load it up and haul it off, so you
don't have to look at it anymore
Junk Removal & Pick-up Services in Kirkland
Junk Removal Kirkland WA Zip Codes
Why Junk B Gone is the Best Junk Removal Company in Kirkland?
Just having a couple of trucks or drivers isn't enough to do a quality junk removal job in Kirkland, WA. The components necessary in creating an efficient junk removal business include experience, commitment, and professionalism. We, at Junk B Gone, have all the qualities required for the most experienced full-service junk removal, being a member of the Kirkland community for nearly 30 years. We live here. We work here. We care about the benefit of the community just as much as you do. Here are just a few of the services we bring to you when you call us for a junk removal job: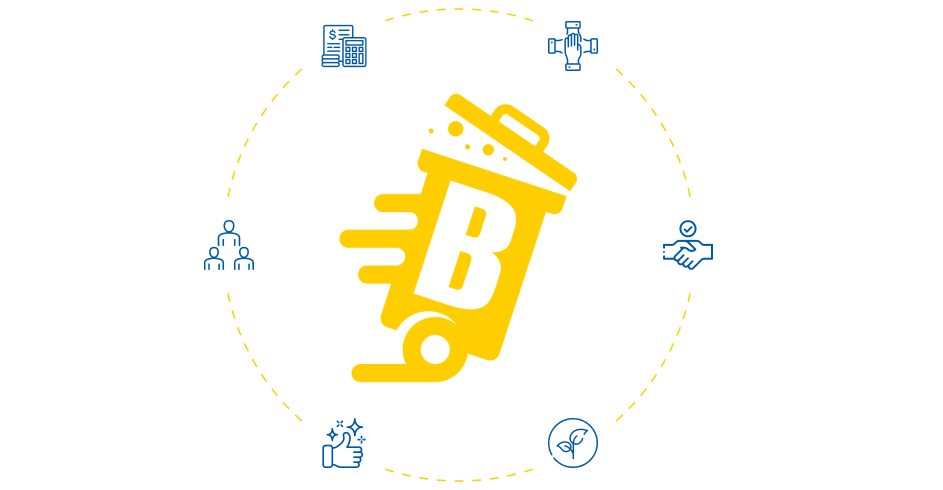 need junk removal services?
Call, Text or Schedule Online
Our Commitment to the Environment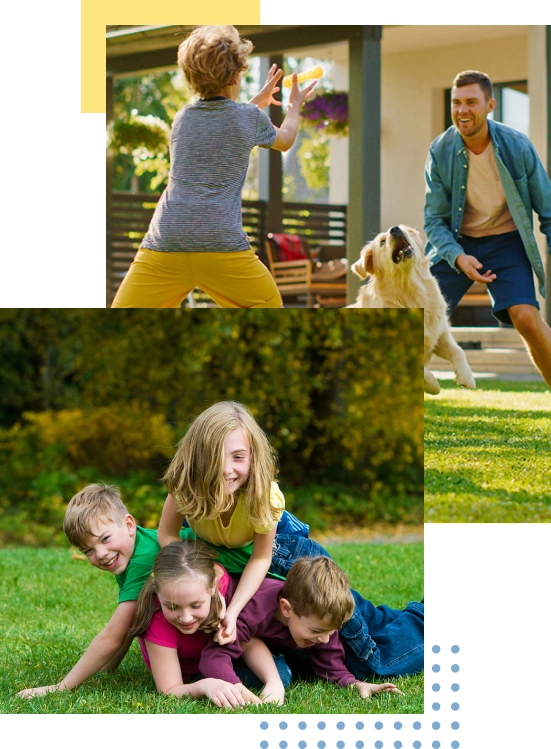 At Junk B Gone, our commitment to providing environmentally mindful services is deep-seated. As a part of our services in Kirkland, we strive to decrease the burden on overflowing landfill sites by maximizing our efforts in recycling and donating items. This eco-conscious perspective is at the core of our operations in Kirkland.
The current predicament of landfills, overburdened due to the high volume of waste generated by Americans, is a cause for concern. The hunt for new landfill locations is growing increasingly difficult, particularly when an average American produces approximately 1,000 pounds of waste each year, adding up to around 250 million tons of trash annually across the nation!
The environmental impact of this escalating waste issue is undeniable. Landfill sites contribute to up to 12% of the worldwide methane emissions, significantly driving climate change. Moreover, toxic waste materials such as mercury, lead, and cadmium often leak into the soil and groundwater reserves from these landfills, causing widespread pollution. This contamination can harm between 30 to 300 species living around the landfill, posing a serious threat to local biodiversity.
Understanding these hazards, Junk B Gone places high priority on the correct disposal of items that can't be recycled or donated, particularly those hazardous or containing toxins. Appliances often are the primary culprits in this context.
For example, refrigerators and freezers built before 1995 contain chlorofluorocarbons, which are major contributors to ozone layer depletion and climate change. Similarly, air conditioners often contain hydrochlorofluorocarbons, another harmful substance. Other appliances might house toxins such as mercury, PCBs, and hazardous oils, which are extremely harmful to both human and animal life.
As a leading Kirkland junk removal company, we are committed to donating, recycling, and disposing of junk in an ethical and responsible manner. It's our obligation to our clients, our community, and our planet.
Book Now
prefer to talk or text?
How to Get Rid of Your Junk
So what are you waiting for? Don't let the junk in your home, backyard or commercial site gather dust and create clutter!
Call us today so we can remove it from your premises and make space for you!  Just click the Contact Us button and we will be there in a jiffy to help you remove your junk in an affordable way!
Free No Obligation Quotes
Frequently Asked Questions