Furniture Removal
Renton WA
Junk B Gone – Your go-to solution for seamless, eco-conscious furniture removal in Renton, serving both homes and businesses with utmost dedication and professionalism.

I have been working with junk b gone since our first house remodel in 2009. They are an excellent service I could not do without personally and professionally. They are always prompt courteous and efficient. The company hires the best people for their jobs and I am beyond grateful and happy with Meir services. Always helpful, well priced and willing to be flexible. Five stars is not enough.

They came right on time, were very nice, and took care of everything very quickly. I'm absolutely going to hire them again.
Free Onsite Quotes
No Hidden Fees
Friendly, Professional Team
We do the heaving lifting!
Environmentally Friendly
Disposal Methods
Uncomplicated Furniture Removal Services in Renton
When it comes to effortless furniture removal in Renton, Junk B Gone leads the industry with our tailored solutions and prompt service. Unwanted furniture pieces not only consume valuable space in your homes and offices but also pose logistical challenges when it comes to their disposal. That's where we step in. Our team of professionals is committed to providing the residents and businesses of Renton with fast, efficient, and hassle-free furniture removal services.
Over the years, we've built our reputation on reliability, responsiveness, and our dedication to the environment. Our trained experts handle the heavy lifting, sorting, and safe disposal or recycling of your old furniture, alleviating the stress and time commitment usually associated with such tasks. We prioritize our customer's convenience, offering flexible scheduling options and personalized service packages to cater to the unique requirements of our Renton clientele.
In Renton, we understand that people are looking for ways to declutter their living and working spaces without adding to the landfill. With Junk B Gone, not only do you get rid of your bulky furniture, but you can also rest assured knowing we strive to divert as much as possible from the waste stream. Our environmentally conscious approach focuses on recycling and donating usable items to local charities, helping Renton sustain its charm and green appeal. Choose Junk B Gone for your furniture removal needs and experience a clean, clutter-free space in no time.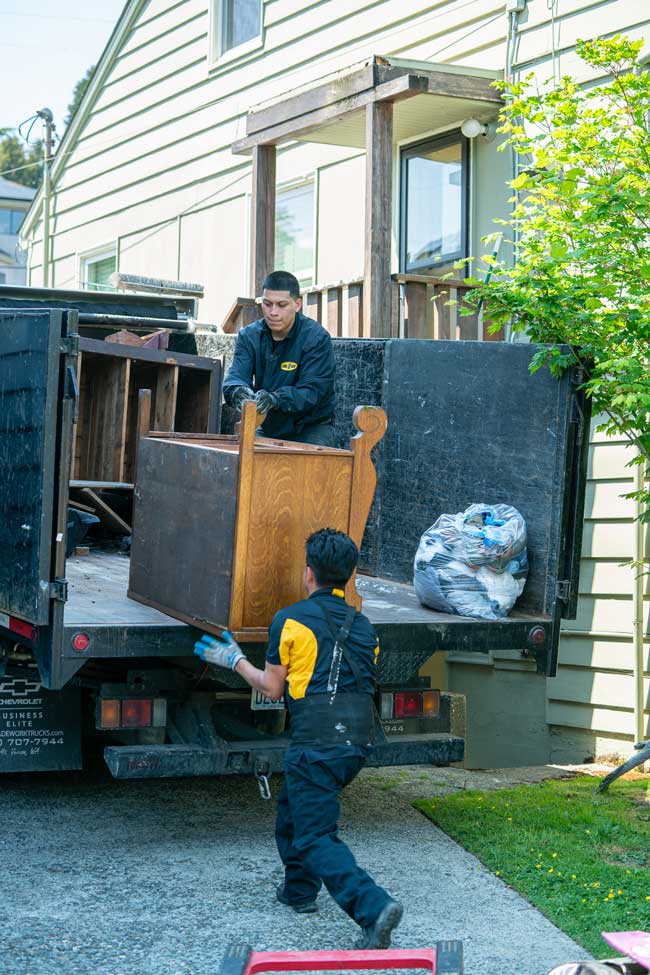 Need junk removed?
Call, text or schedule online.
How Much Does Furniture Removal Typically Cost?
What does furniture removal in Renton cost?
Pricing for furniture removal in Renton can vary depending on various factors. At Junk B Gone, we aim to offer our customers an efficient, cost-effective solution for their furniture disposal needs. The cost typically depends on the volume of furniture to be removed, the complexity of the job, and the specific requirements of the task. We have designed our pricing model to be transparent and competitive, ensuring our customers always receive the best value for their money.
One of the key elements that set us apart from our competitors is our commitment to providing upfront pricing. Instead of surprise fees and hidden costs, our team evaluates your situation and provides you with an estimate before starting the work. This allows our clients to plan their budgets effectively and gives them the peace of mind they deserve. No matter how big or small your furniture removal project in Renton, you can trust Junk B Gone to offer a fair, affordable rate with unmatched service quality.
Click the Request a Quote button below to get a free, no obligation on site assessment of your furniture removal project.  We'll show up on site, assess your project and if you approve of our price we'll remove right then.  If not, our crew will simply move onto their next job.
How Does Junk B Gone Streamline Furniture Removal in Renton?
Mastering Junk Removal Services in Renton
When it comes to handling unwanted furniture in Renton, Junk B Gone leads the way by offering a streamlined and efficient service. We understand the challenges of furniture removal, from the heavy lifting to the responsible disposal. Our goal is to take this stress off of your shoulders and manage the process from beginning to end.
In the heart of Renton, our team works tirelessly to ensure the proper handling of your discarded items. We pride ourselves on our attention to detail, which includes minimizing waste that ends up in landfills. The first step in our process is to carefully sort through the items we collect to identify those that can be salvaged, recycled, or donated.
By giving a second life to these usable items, we not only help reduce landfill waste but also contribute positively to our local community. Donated items often find their way to local Renton donation centers and charities, where they can serve those in need. Meanwhile, recyclable materials are sent to appropriate facilities for repurposing and reintegration into the manufacturing cycle.
Our commitment to the community extends beyond merely providing exceptional furniture removal services in Renton. We also strive to minimize our ecological footprint and make a meaningful difference in our local environment. By choosing Junk B Gone, you're not just opting for a clutter-free space; you're also supporting sustainable practices that foster a healthier, cleaner Renton.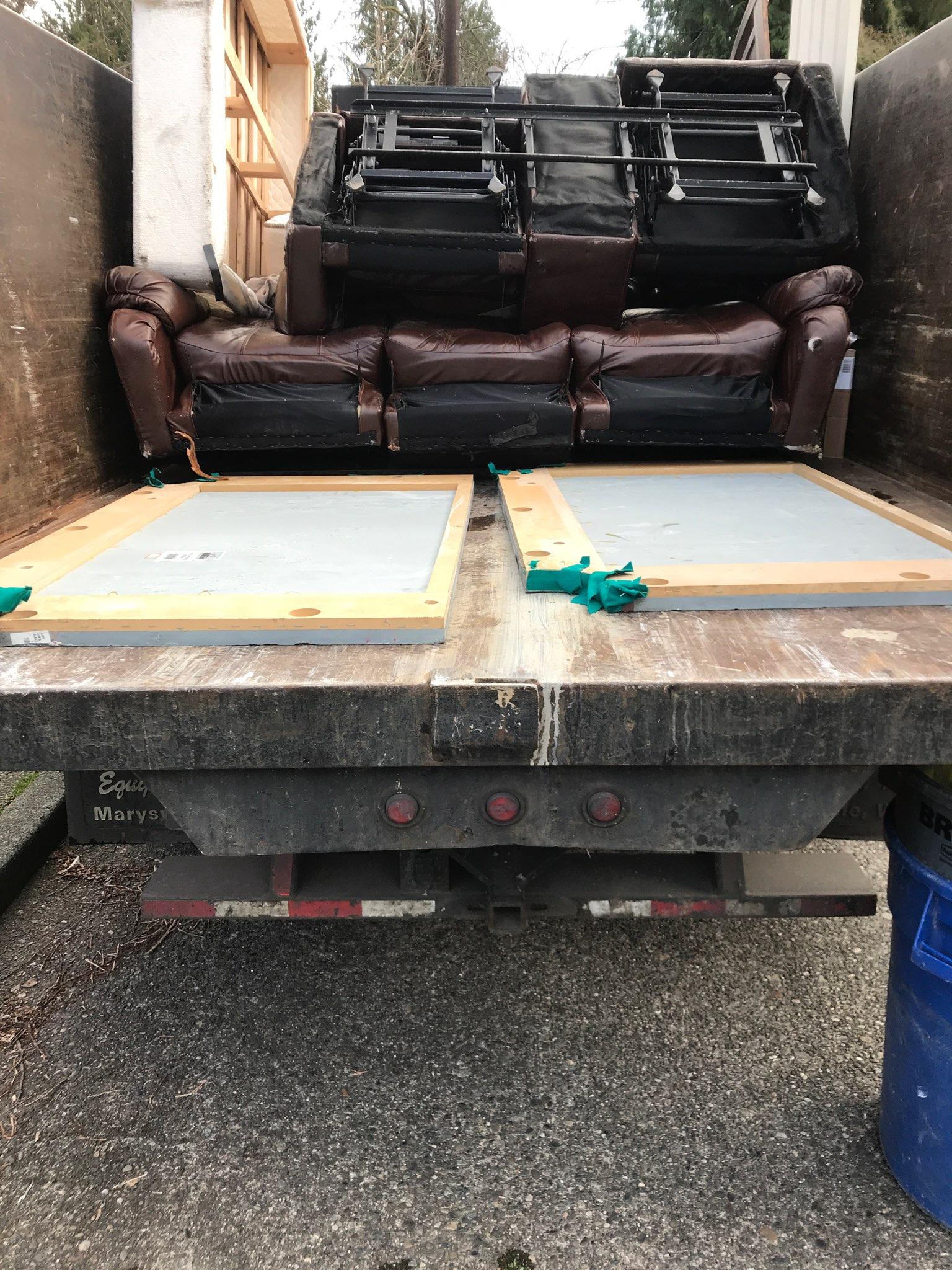 What are Junk B Gone's Renton furniture Removal Services?
So are you ready to find out the great offers Junk B Gone has for you in terms of furniture removal services in Renton? Here is a list:
Don't see what you need removed?
No worries give us a
call 206-722-4285
and we can help.
What Does Junk B Gone Do with the Junk?
At Junk B Gone, our method of managing your unwanted items in Renton is guided by responsible and environmentally friendly practices. Whenever we collect your discarded items, our topmost priority is to reduce what ends up in landfills, thereby diminishing our ecological footprint. Our conscientious team meticulously sorts through the accumulated items to identify those that can be reused, recycled, or donated.
Items that still hold potential for reuse are sent to local Renton donation centers and charities, granting them a new lease of life and aiding those in need. Recyclable materials, on the flip side, are transported to suitable recycling facilities, ensuring they are reused and reintegrated into the manufacturing process. By sticking to these ethical practices, Junk B Gone not only delivers exemplary Renton furniture removal services but also makes a significant positive impact on the local community and environment.
In Renton, our efforts to serve the community go beyond just furniture removal. We work closely with local organizations to ensure donated items are put to good use, helping those in need while promoting a more sustainable lifestyle. At the end of the day, our goal is to ensure that every piece of furniture removed is handled in the most environmentally conscious manner possible, making Renton a cleaner and more sustainable place to live.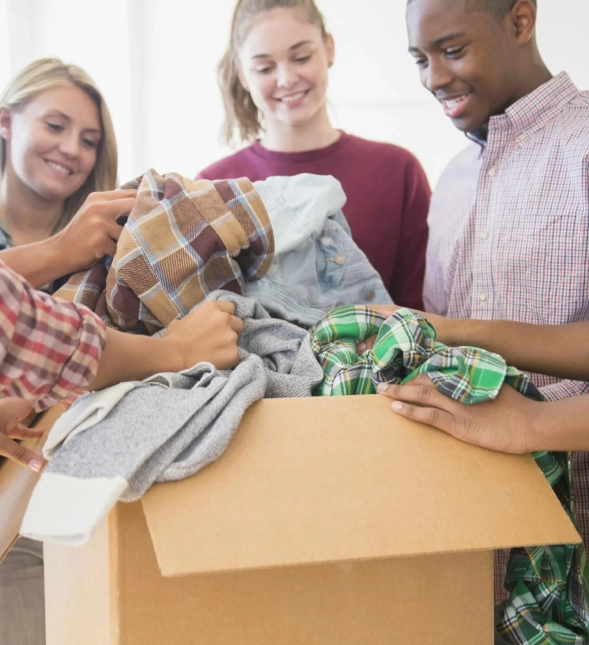 How Does Furniture Removal Work?
Whether you have a few items that need removing or a full office clean out, Junk B Gone is the
Renton Furniture Removal Company for the job!  We have an experienced team ready to serve you!

Call or Book Online
All you have to do is give us a call to
set up an appointment and let us
know what we'll be hauling

Schedule an Appointment
Before we arrive, you'll move your junk to an
easily accessible area where it's reachable
from our truck. That's it!

We Haul It Away
We load it up and haul it off, so you
don't have to look at it anymore
Junk Removal & Pick-up Services in Renton
Junk Removal Renton WA Zip Codes
98055, 98056, 98057, 98058, 98059, 98178
Why Junk B Gone is the Best Junk Removal Company in Renton?
Just having a couple of trucks or drivers isn't enough to do a quality junk removal job in Renton, WA. The components necessary in creating an efficient junk removal business include experience, commitment, and professionalism. We, at Junk B Gone, have all the qualities required for the most experienced full-service junk removal, being a member of the Renton community for nearly 30 years. We live here. We work here. We care about the benefit of the community just as much as you do. Here are just a few of the services we bring to you when you call us for a junk removal job: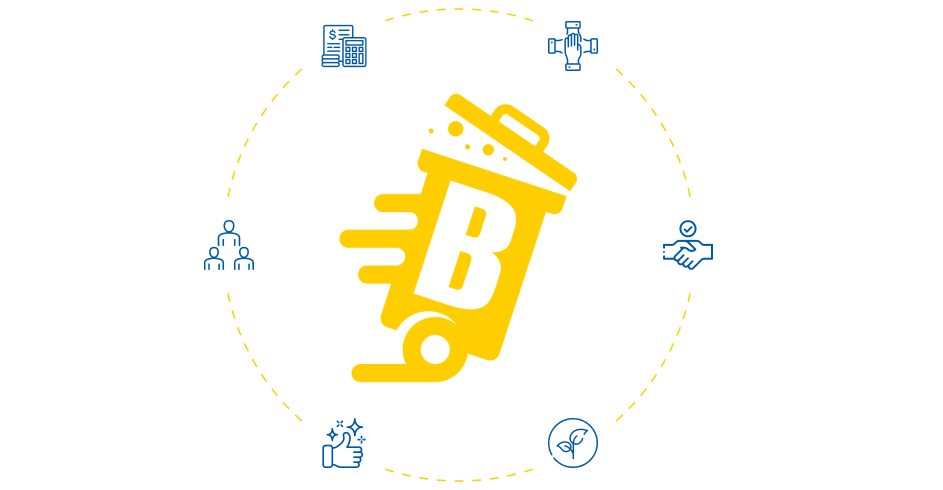 need junk removal services?
Call, Text or Schedule Online
Our Commitment to the Environment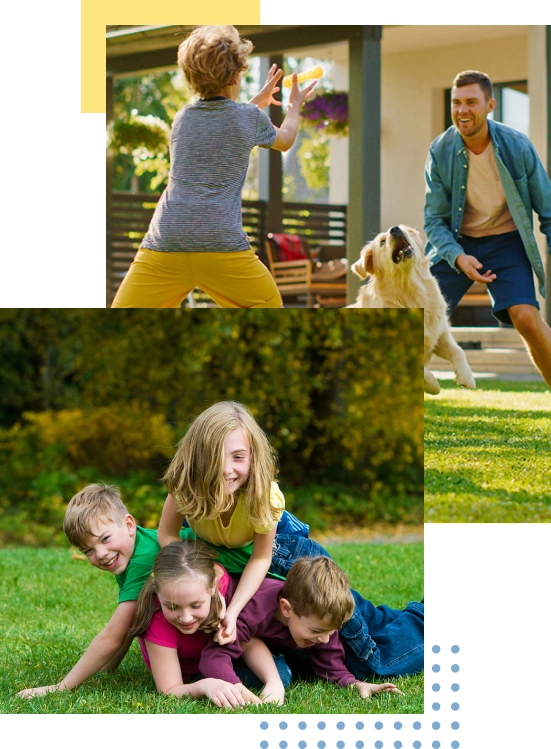 At Junk B Gone, our dedication to delivering environmentally considerate services is ingrained in our work ethic. As part of our operations in Renton, we aim to alleviate the pressure on overflowing landfill sites by amplifying our efforts in recycling and donating items. This eco-friendly philosophy is central to our business in Renton.
The existing dilemma of landfills, overtaxed due to the enormous amount of waste produced by Americans, is a pressing issue. The search for new landfill sites is becoming increasingly challenging, particularly considering an average American generates roughly 1,000 pounds of waste each year, amounting to approximately 250 million tons of garbage annually nationwide!
The environmental repercussions of this burgeoning waste problem are unmistakable. Landfill sites account for up to 12% of global methane emissions, significantly fuelling climate change. Furthermore, hazardous waste materials such as mercury, lead, and cadmium often seep into the soil and groundwater from these landfills, leading to widespread pollution. This contamination can adversely affect between 30 to 300 species residing around the landfill, posing a serious danger to local biodiversity.
Recognizing these risks, Junk B Gone prioritizes the correct disposal of items that can't be recycled or donated, particularly those that are hazardous or contain toxins. Household appliances are often the main offenders in this regard.
For instance, refrigerators and freezers manufactured before 1995 contain chlorofluorocarbons, which are significant contributors to ozone layer depletion and climate change. Similarly, air conditioners frequently contain hydrochlorofluorocarbons, another detrimental substance. Other appliances may contain toxins such as mercury, PCBs, and harmful oils, which are extremely detrimental to both human and animal life.
As a leading Renton Furniture removal company, we are committed to donating, recycling, and disposing of junk in an ethical and responsible manner. It's our duty to our clients, our community, and our planet. In Renton, we work diligently to ensure that our operations contribute positively to the sustainable growth of the community, making the world a better place, one piece of furniture at a time.
Book Now
prefer to talk or text?
How to Get Rid of Your Junk
So what are you waiting for? Don't let the junk in your home, backyard or commercial site gather dust and create clutter!
Call us today so we can remove it from your premises and make space for you!  Just click the Contact Us button and we will be there in a jiffy to help you remove your junk in an affordable way!
Free No Obligation Quotes
Frequently Asked Questions